Audiocraft Podcast Festival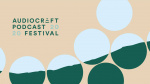 Event title:
Audiocraft Podcast Festival
Event time:
7:30PM -9:00PM (Friday July 24th)
8:00AM – 8:00PM (Saturday July 25th)
Event Description:
The Audiocraft Podcast Festival is returning for 2020 with a slew of top industry creators and executives sharing the latest insights on the burgeoning medium.
Headlining this year's event is Gimlet co-founder/Spotify head of podcasts Matt Lieber, Science Vs host Wendy Zukerman, Nancy co-hosts Kathy Tu and Tobin Low, Forest 404 creators Becky Ripley and Timothy X Atack and Tiddas 4 Tiddas co-founder Marlee Silva.
The 2020 festival theme is 'expanding the world of audio' and speakers from around the world will be exploring the art of audio-storytelling and the growing podcast industry. Keynotes include Matt Leiber (Gimlet/Spotify) reflecting on the explosive growth of podcasting, Kathy Tu (Nancy/WNYC) talking about why podcasting is the perfect medium for queer storytelling and Australian podcast royalty Wendy Zukerman on audio journalism and the struggles of covering COVID-19.
Attendees will have the opportunity to participate in virtual workshops, meet-ups, and on-on-one chats, and Leah Harris from Spotify will be fielding live podcast pitches at the event.
Send Message to listing owner
Listing Title: Audiocraft Podcast Festival
« Sport And Community: Reshaping Australian SportWriting for the web – webinar over two half days in September »