Digital Marketing Masterclass by Arktic Fox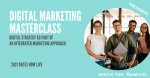 Event title:
Digital Marketing Masterclass by Arktic Fox
Event time:
9.30am – 1.00pm AEST
Event Description:
2021 course dates:
10-11, 17 & 18 February 2021
5-6, 12 & 13 May 2021
11-12, 18 & 19 August 2021
Course Overview:
Our program is designed to help marketing managers, leaders and teams understand the key aspects of digital marketing, how they fit into a wider marketing strategy and how to effectively enable success across marketing tech, data and ways of working. This course will provide participants with the confidence as individuals and as a team to ask the right questions and guide the digital journey.
Who is the program for?
This Masterclass is relevant for any marketing leader or team member who is looking to connect the value of digital with wider marketing principles to ensure a sound, strategic direction for their business. As well as developing valuable skills for individuals, the course aims to generate immediate benefits for organisations with employees who feel empowered to make the right decisions in the digital space.
What you can expect to learn
01/ digital – changing the nature of marketing:
Understanding key digital trends, changing consumer behaviours and consumption habits and the benefits of digital
02/ digital strategy
The marketing mix in a digital age
Defining digital objectives & strategy in-line with corporate and marketing strategy
Development of online target audience and value proposition/s.
03/ customer journey mapping & the role of digital channels:
Understanding and mapping the customer journey
Introduction to the RACE model to plan an integrated marketing approach
04/ digital channel and experience management:
Leveraging digital channels as part of an integrated approach
A closer look at search, programmatic, web, social, email and the role of content
05/ ways of working:
Evolving ways of working to take advantage of the digital opportunity
A look at agile ways of working in a marketing context
06/ data and analytics:
Leveraging data and analytics to power digital ambitions
A look at the world without 3rd party cookies
Changing privacy regulations and the implications for marketers
07/ marTech:
Navigating the MarTech landscape – tools and technologies available
Selecting the right MarTech to underpin your digital strategy
08/ measurement:
Defining a measurement framework to measure short- and long-term success
Leverage learnings to improve performance
09/ building a case for change:
Selling the vision to garner stakeholder buy-in
Sizing the investment and staying the course
Course Facilitators
Teresa Sperti
This program is led by the highly seasoned and regarded Teresa Sperti. A Customer and Digital leader with over 20 years' experience working for leading brands including Coles, Officeworks and World Vision amongst others.
Teresa's leadership in the digital, product and customer space has delivered substantial growth and transformative change for organisations in rapidly evolving markets. A thought leader within the Australian Marketing industry, Teresa regularly presents at conferences and events on a diverse range of topics including customer experience, data, marketing technology and leadership.
Teresa was named in the top 20 CMOs in Australia in 2018 which recognises Australia's most innovative and effective marketing leaders in the country.
Marcus Betschel
Marcus has over 20 years' experience in marketing, specialising in digital and social media nine years ago. He has provided strategic counsel to a large number of Australasian and global clients across a variety of sectors. He has held senior digital roles in some of the largest and most successful media and performance agencies in Australia.
Marcus loves to transform businesses and brands. His experience in data and performance platforms drives him to continually innovate and evolve, understanding that data will form the connection point between digital media, social media and the end consumer.
Send Message to listing owner
Listing Title: Digital Marketing Masterclass by Arktic Fox
« Advertising Week Briefings: 5 Things in SportsWriting for the web – webinar over two half days in January »