Pinterest Presents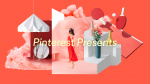 Event title:
Pinterest Presents
Event time:
10am – 12pm AEST
Event Description:
Pinterest will host its first ever advertiser summit, Pinterest Presents, on March 3rd, 2021. The virtual experience will provide the global marketing community an exclusive look at the company's latest ad product updates and new ways to reach 450 million Pinterest users.
Hosted for advertisers in key markets including the US, UK, France, Germany, Canada and Australia, the virtual summit is designed to inspire and spark creativity among its audience and provide marketers with an exclusive look at the company's latest ad product updates which offer even more opportunities for advertisers on the growing platform.
Pinterest Presents will bring together a range of compelling industry voices and inspiring speakers to create an exciting and engaging virtual experience. In addition to CEO Ben Silbermann, global Pinterest speakers will include Andréa Mallard, Chief Marketing Officer, Aya Kanai, Head of Content and Creators Partnerships, and Dan Lurie, Head of Growth and Shopping Product. Sessions for each country will ignite conversations around diversity and inclusion, sustainability, scaling e-commerce, designing for accessibility, and entrepreneurship.
In Australia and New Zealand, Ryan Goldsworthy, Australia Agency Lead at Pinterest will host Megan Brownlow, industry leader, who will speak about how self-actualized brands embrace conscious commerce and align with social good. Turia Pitt, author, speaker, coach, and ironman athlete, will discuss how she has overcome hardships and truly embraces inspiration.
In addition, cultural icons and celebrated stars of the worlds of fashion and entertainment will be joining the line-up with exclusive advice for marketers. Pinterest will be announcing these special guests to registrants just before the event on March 3rd.
Send Message to listing owner
Listing Title: Pinterest Presents
« Email Marketing Basics Webinar: Automating and Monitoring Your ListsSubscription Summit 2021 »