Trends Decoded: Cutting edge Out-of-home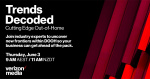 Event title:
Trends Decoded: Cutting edge Out-of-home
Event time:
9AM (AEST) / 11AM (NZST)
Event Description:
To say the out-of-home industry has undergone 'change' is the understatement of the year. As one of the oldest forms of advertising, it's evolution has withstood the tests of time including the unprecedented lockdowns last year.
Now, digital and programmatic capabilities have opened up new frontiers within the OOH industry and are creating opportunities for marketers to reach and measure offline and online together in ways never seen before.
In Trends Decoded: Cutting edge Out-of-home, top industry players unpack the evolution of outdoor media and uncover how your business can gain advantage with the latest operational, structural and automation solutions.
Keynote
With the advent of programmatic buying in digital out of home, what was once the most offline media platform has become one of the greatest brand-building opportunities for every business. But to take advantage of the emerging opportunity most marketing departments and agencies need to reorganise how they operate and create structures which reflect the new reality of media.
In this session John McNerney, Director of Ad Platforms at Verizon Media ANZ, will delve into the lessons learned by Yahoo, one of the original digital media businesses, and share how embracing programmatic has created profound change across business, the wider industry and most importantly, its effect on consumers.
The keynote will be followed with a Roundtable discussion with:
Charmaine Moldrich, CEO, Outdoor Media Association (OMA)
Anthony Ellis, MD, Publicis Media Exchange
Samantha Franklin, Senior Brand Manager, QV
Cassandra Cameron, EGM, Revenue Strategy and Operations, JCDecaux
Paul Sigaloff, VP Verizon Media, ANZ & INSEA
John McNerney, Director of Platforms ANZ, Verizon Media
Send Message to listing owner
Listing Title: Trends Decoded: Cutting edge Out-of-home
« 4th International Conference and Exhibition on Pain ManagementWriting for the web – webinar over two half days in August »