The summit – reaching peak email marketing performance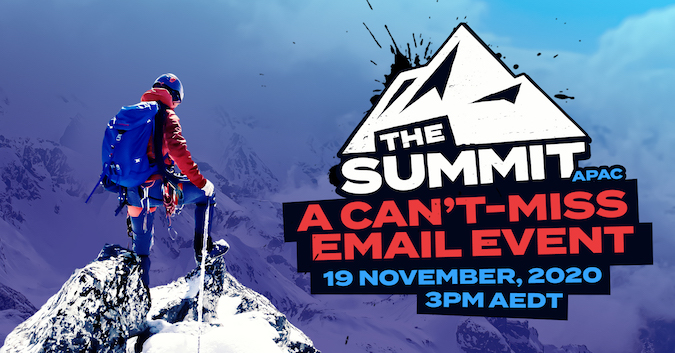 If we've learned anything from 2020, it's that it's paramount to be ready to face rapid change and adopt new technology – especially in the face of adversity. Beyond adapting to change, the events of this year have forced marketers to lean into innovation, to create new opportunities to improve communication channels – namely email, the marketing ecosystem and the industry at large.
On Thursday 19 November, two industry greats – Validity's Tunc Bolluk and Guy Hanson – will be joined by Phil Hawkins from Flybuys, Anthony D'Abaco of iSelect and Peter Ratcliffe from Bionic Digital for The Summit – a panel discussion where they will share their perspectives on innovation in the email industry, how the pandemic has shaped the marketing sector and what email marketers can do to make the most of our new reality, including during the upcoming holiday season.
The panellists will provide reflections on how recent good news such as tax cuts announced in the Federal Budget, Victoria's 14-day-plus zero-case average, and the prospect of a COVID-19 vaccine have had a positive impact on consumer spending.
A local lens will be applied to marketing innovation, with the trio exploring why Australia is often thought of as 'ahead of the curve' when it comes to advances in the industry. The panellists will be quizzed on their own email marketing programs, including whether email deliverability has been tougher for them this year, what innovations they've implemented, which outsider innovations have most impressed them and their favourite new technologies in the email space.
The experts will be gifted a magic wand and asked about their dream capabilities and functionalities for email that are yet to exist. And lastly, they will provide an overview of Everest – the email marketing platform revolutionising the industry.
To register to attend The Summit, visit: https://go.validity.com/the-summit-apac
Meet the presenters
Tunc Bolluk, VP APAC Validity Inc
Tunc is vice president, APAC for Validity. He is responsible for leading sales and for overseeing general management of the region for the company. Tunc brings his extensive regional experience in the digital sector to support Validity's clients across their marketing, sales, data and CRM business units.
Guy Hanson, VP Customer Engagement (International) Validity Inc
Guy is a passionate advocate for intelligent use of customer data to drive responsive sales and marketing programs. With a knowledge base spanning 20 years, he is globally recognised as an email and data expert, and thought leader.
Phil Hawkins, COO Flybuys
Phil Hawkins is chief operations officer at Flybuys, a joint venture of Coles Group and Wesfarmers, which operates Australia's most popular loyalty program. Phil is a globally recognised loyalty program expert with over 25 years' experience in the industry, across Loyalty Pacific, Coles, NAB and Shell.
Anthony D'Abaco, Head of Customer Activation iSelect
Anthony is a media and marketing professional with over 15 years' experience across both the client and consultant landscapes. He has extensive experience working across paid and unpaid media, marketing strategy, campaign development and execution, tracking and evaluation. In recent years, Anthony has overseen iSelect's 1:1 marketing activity with a heavy focus on email marketing, collaborating across business functions including Data Science, and Product and Operations to deliver on iSelect's brand promise to its customers.
Peter Ratcliffe, Director Bionic Digital
Peter has extensive experience in IT and digital and the implementation and growth of ecommerce channels. He has held pivotal roles at Retail Apparel Group, APG & Co and Gazal, and only recently moved into an independent consulting role, assisting businesses with digital transformation, martech implementation and optimisation, ecommerce and IT strategy.