Digitalzone'21 Online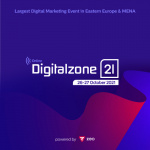 Event title:
Digitalzone'21 Online
Event time:
The conference will take place online from 11:00 a.m. to 6:30 p.m. (GTM+3) both days.
Event Description:
DIGITALZONE'21 TO BRING PROMINENT DIGITAL MARKETING EXPERTS TOGETHER ON OCT. 26-27!
Digitalzone'21, organized by Zeo agency as the largest digital marketing event in Eastern Europe and MENA, will take place on 26 & 27 October 2021.
The event promises a unique virtual experience where speakers will focus on SEO, PPC, Content Marketing and Data Analysis along with sharing their know-how and the latest strategies to get ahead of the competition in digital marketing.
Having hosted more than 110 international speakers since 2013, this year Digitalzone will once again feature the most prestigious digital marketing consultants who work at leading companies around the world.
Announced speakers follow as:
Izzi Smith – RYTE
Wil Reynolds – Seer Interactive
Simo Ahava – 8-bit-sheep
Aleyda Solis – Orainti
Greg Gifford – SearchLab Digital
Lexi Mills – Shift6 Global
Judith Lewis – Decabbit Consultancy
Yves Filippucci – Coca-Cola Company
Jeff Sauer – Jeffalytics
Arnout Hellemans – Onlinemarkethink
Yiğit Konur – seo.do
Digitalzone is intended for a global audience of digital marketers – across brands, agencies and entrepreneurs – and those who want to improve their skills.
The conference will take place online from 11:00 a.m. to 6:30 p.m. (GTM+3).
Don't miss this great event and visit the event website for more information.
About Zeo:
Zeo Agency is an international SEO & digital marketing agency, and organizer of Digitalzone. Zeo has won many prestigious awards over the past few years, including 'Best Health Campaign' at UK Search Awards 2019 as well as 'Best Large SEO Agency' at MENA Search Awards.
Send Message to listing owner
Listing Title: Digitalzone'21 Online
« Adobe MAX – The Creativity ConferenceSemrush AU Search Awards »