Mumbrella360: Reimagined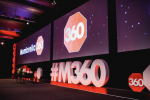 Event title:
Mumbrella360: Reimagined
Event Description:
Mumbrella360 returns in a reimagined way allowing the event to be run in-person, connecting the media and marketing industry in Australia at a scale not seen since before COVID-19. With a focus on local challenges and opportunities delivered by Australia's leading industry thinkers, Mumbrella360: Reimagined will deliver knowledge and networking opportunities that you need to make the most of 2021. Whether you're brand, agency or media-side, this is an event not to be missed.
Due to the unfolding situation in NSW in regards to the COVID-19 outbreak, Mumbrella360: Reimagined have been closely monitoring the situation and implications for the upcoming event, scheduled to take place next month (14-15 July). In response to the recent developments and ongoing uncertainty, the difficult decision has been made to postpone. Mumbrella360 will now be held on the new dates 28-29 September 2021 at Hilton Sydney.
Send Message to listing owner
Listing Title: Mumbrella360: Reimagined
« Sub-editing and proofreading course – webinar over two half days in SeptemberShe'll Be Right: How should we tackle the biggest marketing challenge of our lives? »