Podcast Training Course (available Australia wide)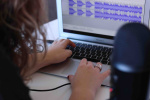 Event title:
Podcast Training Course (available Australia wide)
Event time:
Two consecutive mornings on the 10th and 11th of September – from 9.30am to 1.30pm (Australian Eastern Standard Time. )
Event Description:
This podcast training course will give you the essentials to start your own podcast. Including planning your podcast, the equipment you need, where and how to host it, how to distribute it on platforms like Apple iTunes, marketing your podcast, and how to make money from it. Plus an introduction to podcasting as a tool for marketing and branding your business.
The podcast course will be delivered online in real-time using live video streaming (Zoom.)
We're based in Sydney but have attendees from cities across Australia (like Melbourne, Perth, Adelaide, Canberra, Brisbane and the Gold Coast) and NZ.
The podcast trainer is Phil Stubbs. Phil's podcast has reached no.4 in the News section of iTunes. Phil has worked for leading advertising agency The Campaign Palace and has taught marketing communication and digital media at Charles Sturt University and Western Sydney University.
You can reach out to Phil via the phone number and email address on our website.
The course cost is $350 including gst.
More of what's in this podcast training via the link here to the Media School site.
This podcast workshop is offered once every 2 or 3 months. (It's next offered on the 3rd and 4th December 2020.)
Send Message to listing owner
Listing Title: Podcast Training Course (available Australia wide)