Semi Permanent – Festival of Design and Creativity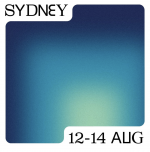 Event title:
Semi Permanent – Festival of Design and Creativity
Event Description:
Following an immensely transformative year, Semi Permanent returns to its Sydney home for our leading festival of business, design and creativity. Curated around the theme 'BRIDGES', the festival will place an emphasis on the unexpected combinations, collaborations and conditions that can be used towards new, game-changing work.
Through keynote talks, panels, workshops and experiences, some of the country's brightest names in business, design, creativity and technology will teach pointed lessons on how those in the room can build new bridges between each other and the world around them.
For an executive audience, FUTURE STATE business panels will return to explore the new paradigm industries face in 2021. As multiple crises hit Australia in 2020—an ecological disaster, a health emergency and simultaneous reckonings on race and gender—now is the time to rebuild entire industries in a more equitable way, and some of the world's best in business, including Google, Audi, PwC, Booktopia and Patagonia will present their vision for how this can be achieved from the top down.
Send Message to listing owner
Listing Title: Semi Permanent – Festival of Design and Creativity
« Retail Revival – the post-covid consumer webinar seriesCommercial & Financial Concepts for Marketers »