The B2B Digital Marketing Virtual Show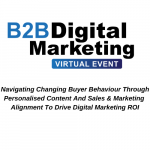 Event title:
The B2B Digital Marketing Virtual Show
Event time:
9:30am – 11:40am AEST
Event Description:
IQPC Australia is excited to present The B2B Digital Marketing Virtual Show to bring to the forefront the most compelling strategies and innovative leaders that are changing the landscape.
Early confirmed speakers include:
– Daniel McDermott, Marketing Director ANZ, Mimecast
– Susie Wong, Former Chief Digital and Marketing Officer, Fuji Xerox Singapore
– Joanne Woo, Head of Marketing and Communications, ABB
– Phyabae Leong, Marketing Lead A/NZ, Khoros
– Jason Gow, Marketing Communications Leader A/NZ, GE Healthcare
Key Learnings and Discussion Points:
– The Secret to Successful ABM Strategies: Defining your accounts, tactics & tech theory into results
– Optimising Your Digital Channels & MarTech Stack: Creating vehicles for marketing revenue generation that can process leads, automate messaging & drive sales performance
– Awareness To Converstion: Personalisation At Every Stage: Lead nurturing tactics that keeps your business front of mind
– Winning Over Your Sales Teams: Changing the mindset of driving deals through sales and marketing alignment
– Respected & Trusted Thought Leadership: Building your digital content strategy to be purpose driven part of the industry conversations
– Staying Number 1: How to maintain market share and use digital to upsell, cross-sell and retain your customer base
Register today and be part of The B2B Digital Marketing Virtual Show! We'll see you August 3-4, 2021!
Send Message to listing owner
Listing Title: The B2B Digital Marketing Virtual Show
« State of Social '21Sub-editing and proofreading course – webinar over two half days in September »