Virtual Business Breakfast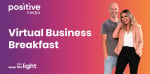 Event title:
Virtual Business Breakfast
Event Description:
PositiveMedia, home of Australia's largest community station, 89.9 TheLight presents leveraging from radio marketing & online directories.
Radio is a powerful media to market your business and help build your brand and or solicit a quick response. PositiveMedia offers a unique audience that can not be reached with commercial radio and is more likely to respond to sponsored messages. Our content is positive, engaging and transformational and thus provides a safe environment for brands to market.
Attend this business breakfast event to learn how to grow your business by leveraging radio marketing and online community business directory listings.
Hear from current station sponsors how they have benefited by partnering with PositiveMedia and Australia's largest community broadcaster 89.9TheLight Melbourne.
Send Message to listing owner
Listing Title: Virtual Business Breakfast
« I-COM vSummit Experience 2021Masterclass: Top Social Video Creative Challenges and How To Overcome Them »