Webinar – How to write compelling thought leadership content for media placement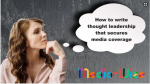 Event title:
Webinar – How to write compelling thought leadership content for media placement
Event Description:
Do you ever wonder why some business leaders are able to have their views shared but you miss out on the media attention? The answer lies in being able to find, articulate and share your opinions and experience. Having thought leadership published is a powerful way to establish your subject matter expertise and credibility in the media.
Learning how to write compelling opinion pieces, and getting them published in mainstream media outlets, is a critical part of your PR strategy. In this webinar we'll help you learn what it takes – what an opinion piece is and isn't and how to get yourself published.
Media-Wize co-founder and PR Director, Kathryn Van Kuyk, is a multi-award winning PR professional with over 20 years experience in writing thought leadership content. She will share insights from having had them published in national daily papers and trade and niche publications in almost every industry vertical.
This informative and highly practical session will give you insights that are rarely provided to a business audience. It will help marketing and PR staff learn more about what media publications are looking for and how to maximise your clients chance of success.
Anthony Caruana, freelance business and technology journalist and former editor of Macworld Australia and Technology Decisions will also share his insights into how he selects thought leadership pieces and how to write them for publication.
Kathryn and Anthony will unlock the tips, tricks and secrets you need to know to get the most value out of your time and investment in thought leadership.
Cost: $25+GST (All payments are by credit card and are processed via PayPal)
Date: 20 October 2020
Time: 14:00 AEST
Once you're registered, we'll send you an email with the Zoom details so you can connect.
Send Message to listing owner
Listing Title: Webinar – How to write compelling thought leadership content for media placement
« MeasureUp 2020Writing for the web – webinar over two half days in October »