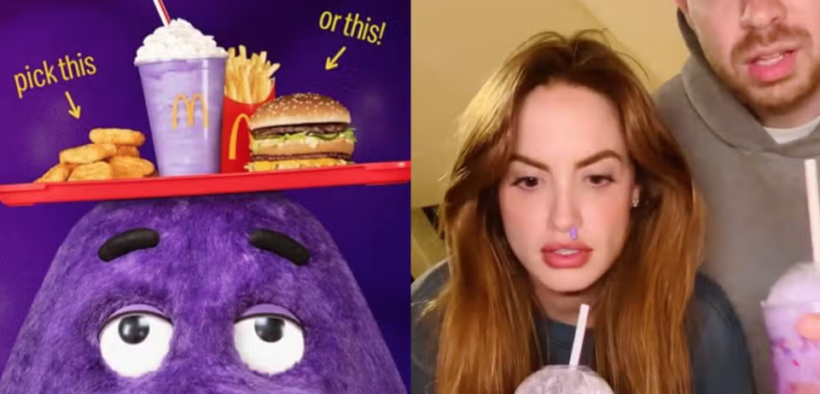 It started out as a humble and childlike campaign for McDonald's character Grimace, but his Grimace shake has become a dark TikTok trend.
A limited edition purple-coloured milkshake was released to celebrate Grimace's birthday. What soon followed was a social media storm, a meme, as TikTok users post video of (fake) catastrophic side effects of the drink.
What is the Grimace shake?
An unsuspecting purple milkshake, the Grimace shake first got the internet's attention when it was described as having the flavour of 'Grimace'. The limited edition drink debuted on 12 June 2023, and was honouring the large purple monster's birthday. It was part of what was dubbed the 'Grimace meal'. 
But when the rather oddly coloured drink hit the market in the US, it received mixed reviews, followed by becoming the internet's rallying cry for likes and shares. After ingesting the mysterious drink, people would start convulsing, losing control, maybe even (bravely) spitting purple goo all over themselves.
Some videos range from a few seconds to epic feature length (TikTok's version of feature length, so about two minutes) – but the punchline is always the same, this Grimace shake will have deadly consequences.
Is this good for McDonald's?
Although the McDonald's and the interesting flavour choice is the butt of the joke, the fast food chain is laughing all the way to the bank. The US-only meal has gone viral, with Australians asking whereabouts the ghastly drink is available. People who normally don't indulge in fast food weren't going to give up the opportunity to go viral. 
All in all, it's free marketing. Nothing goes past the internet.
The history of Grimace
The cute campaign plays directly into the mystery of Grimace. No one quite knows what the furry creature is. In 2014 a Tweet from the company stated that "Grimace lore says he is the embodiment of a milkshake or a taste bud." So, in this fashion of Grimace being shrouded by mystery, the dedicated purple drink has not been granted a specific flavour.
Available with an order that includes a Big Mac, 10-piece McNugget and a medium fries, Aussies will be disappointed to learn that the mystery beverage won't be coming over to our shores.