Its head in the game – FIFA brand profile
27 December 2011
min read
This feature first appeared in the August 2010 issue of Marketing magazine.

How do you maintain order in a sport that has more member countries than the UN and nearly as many players as the population of the US? Matty Soccio ties up his boots, pulls on his jersey and runs out onto the field of the gods to put FIFA through its paces.
There's something about football that gets me all excited – hot and bothered in a good way. C'mon, we're all adults here (generally), this doesn't necessarily have to be a sexual thing… for some it may be, but in this context I'm talking about a different emotion: passion or, more precisely, passion for a game.
Passion is a word that has started wars and big companies; it has been the making and breaking of many, especially when it comes to sports.
I'm not going to trade blows with those of you who support different codes of 'football'. I don't really care how much you think rugby is the real footy, or if AFL is what football should be. The fact is, after 150 years (and, according to some archaeologists, even thousands of years) association football, soccer, wog ball, whatever you choose to call it… football is the world game.
What else do you call a sport that counts more countries as members than the International Olympic Committee or the United Nations?
Sitting at the helm of this world sport is the Fédération Internationale de Football Association (FIFA), one of the world's largest and oldest NGOs. Interestingly enough, FIFA began its life pretty poorly – in fact it nearly didn't survive its first five years, due a dispute with the Football Association, the group that started the game.
The UK was the centre of the football world in the early 20th century, having hosted the first 'international' football match (between Scotland and England). In May 1904, six countries (France, Spain, Belgium, the Netherlands, Sweden and Switzerland) decided they wanted to get in on the action and formed FIFA as a means of organising matches between national teams. Slowly but surely more teams signed up to the Association, with Germany and England both signing up a year later, followed by the first non-European member, South Africa, then the first South American countries, Argentina and Chile, in 1912.
At this point, the Association's founders and chairman believed that FIFA was about protecting the sanctity of the rules and becoming the main contact for the game around world.
It was up to FIFA to control all facets of the game internationally, including organisation of football matches for the 1924 Olympic Games, its early crack at organising a major tournament.
Its role as solely an association changed dramatically in 1974 when Brazil's João Havelange took over as FIFA president. It is Havelange who is credited with turning the organisation not only into a commercial enterprise and one of the most recognisable global brands, but also into a kind of aid organisation. Previously, FIFA had taken the stance that its role was to preserve the amateur status of players, allowing even the smallest nations to participate in the Association's events. Havelange flipped that theory on its head, claiming that by aligning the organisation's interests with commercial enterprise, it could do more to aid developing nations through funding programs to expand the game and enrich the locals' lives participating in it. During his reign, Havelange saw countries such as Guam, Lesotho and Montserrat become members of FIFA through its help.
This mission has continued under the presidency of Joseph 'Sepp' Blatter, who took over from Havelange in 1998.
"FIFA's mission statement is 'develop the game, touch the world and build a better future', and this is something that is essential for the success of the strategy," Ralph Straus, FIFA's head of strategy and management, tells me on the phone from South Africa, as the 2010 World Cup take places around him.
"We are organised in accordance with this mission statement. For instance, the FIFA Fan Fests are part of the 'touch the world' concept, as is the organisation of the FIFA World Cup and all the other FIFA events. It's not a commercial background to organise the international FIFA Fan Fest; it's to offer the fans [the opportunity] to watch those games in a secure environment. At this point in time FIFA only invests in it, so we are not earning any money with the Fan Fest, both internationally and in South Africa. It is really part of an objective to give something to the fans, and of course there will be hopefully some positive PR from it, but the principle is to offer something nice to the fans."
But some believe that FIFA is in fact just an organisation that capitalises on the power and popularity of the game, not the other way around – because of its position as the governing body, it treads a fine line between organisation and autocracy.
Robert Barnes heads up Dangerous Minds Consulting, a consultancy for national sporting organisations in Australia and New Zealand, and he thinks that FIFA is (or al least should be) essentially about the game, and it's the game, not FIFA, that connects many global communities.
"Football is about the people as it continues to be the most widely played (and watched) sport in the world. Essentially, FIFA is a global federation of confederations – the peak body that constitutionally governs how the game is played around the world and has power vested in it from the confederate members to run the World Cup every four years. What FIFA perhaps has lost sight of is that it doesn't own the game. So why does it think it does?
"The game itself is a vehicle for so much development work, community goodwill and contributes to the personal and national pride of so many… yet FIFA is seldom linked to such work. Despite its annual report perhaps accounting for significant investments in such work, it does not appear able to gain any global kudos. It is the game itself and those on the ground supporting the play."
It's an association that is also a branding super power – the control FIFA has over its merchandising rights and the licensing of its name is closer to the CIA than Sony, more 'clandestine' than 'Coca-Cola'.
But it wasn't always this way. Straus indicates that the Association's marketing strategy was inconsistent and disjointed due to the complex nature of the relationship it had with its members. In fact, says Straus, for a long time FIFA didn't even have its branding on the World Cup it had spent years organising.
"Until 1998 the word FIFA was not used in any of the official emblems. It was referred to as a World Cup. Since 2002 we started to include the word FIFA into the official emblem, so it's known as the FIFA World Cup," says Straus.
"The timing and how we develop the different brand assets is relatively consistent now. This, of course, totally depends on the local organising committee, because they have a very large influence on this, because it's done in their country. It's also important for the local organising committee to be involved and to have ownership of the event and the brand image. There are certain differences, but you see the brand development over time."
In essence, FIFA's board of directors doesn't just control a sporting organisation, it has a large say in what happens in the host countries as well. It is effectively the 'Illuminati'. It almost has more influence in more governments than just about any organisation on earth. Why? There isn't a nation on earth that doesn't have a football team, regardless of how good it is.
What represents nationalism better than the pride of a country's football team flogging the closest neighbour – think Australia versus New Zealand – hence why everyone wants a crack at being the best; everyone wants to get their hands on the Holy Grail.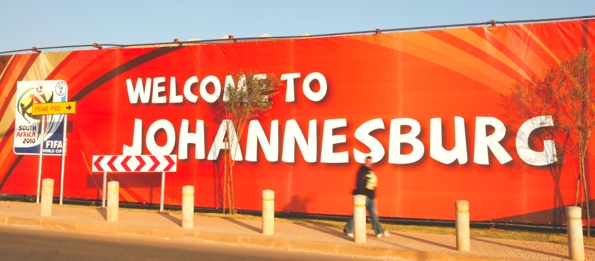 Quest for the Holy Grail
This year millions of bleary-eyed Australians gave in to their fierce national loyalties and were to be found in front of their televisions or their computers at ridiculous hours of the morning watching their team get bundled out of the competition for the world's most sought after prize. Why? The 'P' word again. Never mind that Australians are already viewed with rolled-eyes over our obsession with sports of all kinds. We've been called everything from 'sore losers' to 'bad winners', but one thing we've never been accused of is a lack of passion.
Traditionally, Australia hasn't been seen as much of a football playing market. This view changed when the Australian team was taken out of strange Oceanic/South American group, and added to the Asian football circuit. Facing up against nations that were at least equal in ability, the national side made it into its first World Cup in 36 years when it went to Germany in 2006. With heroes like Harry Kewell, Tim Cahill and goalkeeper Mark Schwarzer, Australians had a new sport to add to the passion list. The fact that the team made it to the final 16 meant that football in Australia was guaranteed a shot in the arm. Has this turned Australia into a football nation though? SBS head of sport Ken Shipp won't discount the concept, but acknowledges that there has been a core group of 'diehards' that has supported the game for a long time.
"I'd say that mainstream Australia is a bit more familiar. I think our core audience has always been fascinated and in love with the World Cup," he says.
FIFA's World Cup is one of the most amazing events on the planet.
At the 2006 event, 85,185 people worked under FIFA's organising committee. The 2006 World Cup final, a 90-minute slog between Italy and Brazil, had a cumulative audience of 715 million people.
According to Football Plus magazine, an estimated 500 million were said to have watched each 2006 World Cup match, meaning one in every 13 people on the planet were following a game at any one time.
Think of some of those numbers and then equate them to your company. Imagine trying to put on a televised event for 175 million people, in over 200 countries around the world, dealing with each country's broadcaster and government.
But the real proof of the passion of FIFA's 'consumers'? The 2006 World Cup attracted 15,000 volunteers.
FIFA's organisation of the aforementioned 1924 Olympics football tournament drew 60,000 people, showing the then head of the Association that there was a market for a sole FIFA tournament that could include all of its member nations. After six years of organisation, the first World Cup was held in 1930. Through various world economic depressions and a world war, the World Cup was the shining light that, just like the Olympics, reflected the world's political landscape.
Considering the size of the current 2010 World Cup, organising this event is a feat that deserves more recognition for those involved. I ask Straus to describe how it is to put together such an event. In a word: 'complex'.
"It is complex because of the significance and the magnitude," explains Straus. "It depends a bit [on the changes] World Cup to World Cup. The development of the brand identity for a FIFA World Cup normally starts six years before the event. Four years before the event we launch the official emblem, which is the icon of that World Cup. With the official emblem, we launch the brand identity, and this is then used to build up the brand image around the FIFA World Cup over the four years.
"Of course, a time horizon of four years before starting is very long in advance, so during that time we launch additional brand assets like the official host city. We are engaged with all the member associations in the preliminary competition, which is around 850 qualifying games that are played, so there is some branding there as well – on the players' shirts we have a badge and in most games we have a centreboard. This is all used to build up the brand awareness and equity for all the brand assets for the FIFA World Cup."
Straus specifies that when it's getting close to the tournament around the final draw, the awareness already has reached a certain minimum level. This ranges from a few mentions on local broadcasting to full campaigns from partners' brands. All of this is measured carefully by FIFA, to make sure that it's getting the most out of its strategy.
"We do a lot of brand research around the world, measuring the brand awareness of FIFA World Cup brand assets, including the recognition of the FIFA World Cup trophy (which is currently the best recognised icon in the world), against things such as the Auscar and the Champions League trophy. Based on the feedback, we then determine in which markets we need to put in additional activities. We do that either together with our commercial affiliates or, of course, use our brand assets and their promotional activities with the media licensees on TV to expose all the brand assets."
As Straus mentioned earlier, one of the things FIFA now does to make sure that its branding remains consistent is to create a strong brand architecture – featuring the official emblems in a predefined format to ensure brand consistency across the different events. This was a simple change that has made a massive difference in the professionalism that the world has come to expect from FIFA.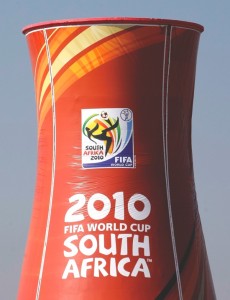 "Of course, with the FIFA World Cup we go much, much further in the applications – in the host city dressing, stadium dressing, the promotional activities we're doing and in the brand experience activities we are planning around it. For the other events, we do it a bit smaller – the same structure and the strategy, but the impact is a bit smaller. You can now see the Women's World Cup and the Under 20 World Cup slowly developing into senior events, with high attendance figures and high TV figures, which will have an impact on the development of the brand as well."
FIFA is well-known for its merchandising licensing, but how has that changed with its ability to have access to online retail?
According to Straus, in terms of actual sales, offline is still stronger. It established its pilot FIFA store in 2007 at Changi Airport in Singapore.
"I think so far the focus has always been on the on-site merchandising. The on-site merchandise we're selling at the stadiums still exceeds what we sell online; however, there's a bit of a change in strategy on this one, partially driven by brand objectives. One thing we are developing is FIFA official stores around the world with FIFA branded merchandising. This is to have an opportunity during the four years for a FIFA branded retail outlet to establish additional touch points with the fans, and to develop additional exposure for the FIFA brand in terms of merchandising.
"We have now internationalised the concept for 2010 to have event stores in a number of markets in South Africa. So you transpose a little bit of the brand identity into different markets where the people can come in and support building this South African feeling around the world – this is something which is of course very important. It's the first FIFA World Cup on African soil and it's very important to communicate this around the world, to offer people around the world a bit of a South African experience that is also a great promotion for the country.
"FIFA is a not for profit organisation, so any income FIFA has is reinvested into football, be it to organise the FIFA World Cup, or football development or social development projects. So this is one area," adds Straus.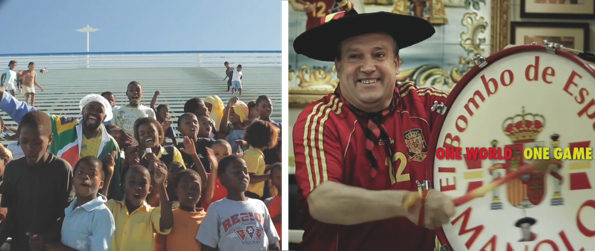 For the people 
It's early morning of the first week of the final 16 team matches at the 2010 World Cup, and Ken Shipp is preparing for a big day in South Africa. I catch him as he's about to head out to schmooze with some FIFA bigwigs, to further cement SBS's 20-year relationship with FIFA, give it an extra polish.
"We were the host broadcaster in 1993 for the World Youth Championships, which were held in Australia, and that was the beginning really of our close connection. As host broadcaster we developed relationships with Sepp Blatter, who at the time was general secretary of FIFA. So the relationship we've had on a professional level is very strong… [SBS's best-known football pundit] Les Murray refers to [Blatter] as one of his friends, so it's a terrific relationship that's just been built over a huge number of years," explains Shipp.
"We've now covered the World Cup since 1990. We shared 1986 with the ABC, and since then FIFA has seen us develop football – they see and understand our passion for the game, they respect us as a credible broadcaster, and we've been able to compete financially on a level playing field so far. We really call it a partnership. What we struggle against now is sudden interest from the other commercial broadcasters, who suddenly have realised what a great event it is. But because FIFA has known us for so long, because they trust us and we've worked so well together, there's a respect there. I think that does help us."
Murray, in his unwavering support of the game, has himself become a branding phenomenon for SBS, with his face linked to the World Cup as readily as Bruce McAvaney is to the Olympics (though only Murray has had a song written about him by TISM, 'What Nationality is Les Murray?'). With his co-host, ex-Socceroo Craig Foster, Murray has become the face of SBS's partnership with FIFA in Australia. But Shipp asserts that this commitment to football is all part of a wider strategy of concentrating on the sports that the broadcaster knows best.
"We've made a big decision to focus on two sports (football and cycling) as our primary content verticals, and by focusing on them we can make sure that our investment in those sports is pretty sound. Then we're not distracted by spending other pockets of money here and there on other events, which really at the end of the day don't get the same benefit, the same audience outcomes that we get from our treatment of these other sports."
Shipp indicates that this strategy extends to its other media portals, which during the recent 2010 World Cup were receiving record levels of engagement.
"In terms of, let's say, the different media channels which we are utilising, you see a bit of a shift of importance from radio to TV, then we see now an increased importance of internet; however, based on the research we're doing, sports consumption on TV is still the biggest," says Shipp. "Of course, we're working very strongly with FIFA.com (the official website for FIFA and for the event). In 2006, FIFA's was the best performing sports site, sporting event site – it had 125 million video streams during the tournament, and about 4.2 billion page views just in the four weeks of the tournament, so that was quite an achievement. Our relationship has changed as the market has become more mature and the expectations of all partners have increased and developed. As new technologies come on, at each World Cup we're looking at new issues to deal with."
But the public's interaction has moved even further than Shipp indicates – Straus explains that one of FIFA's biggest events is held online: the EA Sports FIFA World Cup for gamers.
"One additional important development in brand awareness is our focus on youth – they mostly know the Association through interacting with the EA FIFA game, so their brand experience is through this. Through this game they have a very good experience with FIFA as a brand. So about five or six years ago we started the FIFA Interactive World Cup, where we have an online competition. Last year we had the one big offline final, but we have an online competition – we had over 760,000 people participating in this tournament, which is the biggest online tournament in the world. This is a great platform to communicate with the fans and in the end the winner of the FIFA Interactive World Cup got a money-can't-buy experience – being able to go to the FIFA World Player Gala, meet the world players and [they] really got something which is unique. This is something that we should really add to the brand exposure of FIFA."
Shipp says that SBS's relationship with the brand extends to FIFA's online properties, pointing out that a deal with FIFA is a deal with destiny.
"I really love working with FIFA. I think they're the most professional organisation I've ever dealt with. Sometimes they can be hard nosed in terms of if there's a difference of opinion, but you can pick up the phone, talk to them, thrash out your issues – usually under some sort of compromise. I think they're great," enthuses Shipp. "They're like God in my view. They're the gods of the sporting world."
Why can't we be friends? 
If we then accept that football is the game of the gods (and who wouldn't want to be in partnership with the gods?), Zeus aside, how does a brand best cash in on it?
Considering some of the stats mentioned earlier, you would imagine that partnerships with FIFA would be some of the most sought after in the world… and you'd be right.
The calibre of partner is reflected in the 2010 World Cup with the likes of Coca-Cola, Emirates, Hyundai-Kia Motors, Visa, Adidas and Sony counting themselves as premium partners of the event.
Ruben Lawrence, strategic partnerships manager at Sony, has been in charge of the company's partnership with FIFA in Australia, something that he indicates has been challenging, but worth every second in terms of the brand awareness and advertising opportunities that are allowed.
"It was actually Sony's first global sponsorship deal of this scale, and really encompasses all Sony companies around the world, as indeed football does, and that's what FIFA represents.
"[2005] was a time when FIFA was really looking at how it interacted with its partners and its partnership structure. There was a rejig of that partnership structure, moving from sponsors and gold, silver, bronze etc, to six marque partners. We signed up third, after Adidas, which has been with FIFA for 40 odd years, and Hyundai, which was also an existing partner.
"So it was announced in April of that year that Sony would be part of that partnership structure, in addition to a larger category, so Sony's category extends across all key technologies – all consumer electronics, audiovisual devices, games consoles, computers etc – but you class it I guess as a super category because it also covers music, Sony Music and Sony Pictures properties as well. Later there was the addition of Sony Ericsson, the official mobile phone of the World Cup 2010, which came in as a kind of sub-deal if you like."
Lawrence indicates that Sony's decision to partner with FIFA was one built not only on the basis of the World Cup's guaranteed attraction of hundreds of millions of eyes – it's also the Association's ability to transcend its commercial side and involve itself in the social aspects of development and ethos that Sony is eager to share. And let's not forget the spectacle of the game.
"Yes [the association] is about the 90 minutes of the game – but for FIFA, football doesn't stop there; it's involved with football across the board. It's the celebration of the entertainment that is football. As a global entertainment brand it makes sense that we partner with effectively one of the biggest single sporting entertainment properties around the world. Because while football has different appeals in different territories, if you add it all up it's right up there – it's played from the plains of Africa all the way through to the city of Rio and the south of France. You can't get away from it as a sport and an entertainment property, bringing people together as a sport around the celebration of football, the playing, watching with your friends, watching in a group.
"From a consumer electronics perspective, what you're seeing through the 2010 World Cup is the emergence of three-dimensional technology. By the actual experience of watching football at home through your television, Sony is an intrinsic part of the enjoyment of the football process. Whether that's taking pictures of you and your mates when you're down at FIFA Fan Fest in Sydney or in the crowd actually at one of the games, or whether it's watching little Johnny running around in the 'under eights' at a park on a Saturday with a Handycam, the capturing and the enjoyment of the sport from the electronics perspective is where we're at," adds Lawrence.
During the tournament, Sony's technology is being used to capture 25 out of 64 games in three dimensions, he explains, which are being broadcast through its three-dimensional televisions globally, essentially incorporating the brand into the process. And, if you look at FIFA's partners, they encapsulate every part of the consumer experience, whether it's the food they eat at the stadiums, the flights they take to get to the event or the gear they buy while they're there. FIFA has created an environment in the World Cup that marries partners with consumers, without fear of competitors. In a socialist kind of way, in 'FIFAstan' your brand is made to stand out.
"We're inherently involved. It's not simply a logo placement exercise; we're actually involved, and that's really to me what a partnership is all about," states Lawrence.
Shipp agrees – on a global level, there is no bigger event in the world than the FIFA World Cup and, as a rights holder, he indicates that brands get access to the event beyond what anyone else would ever get.
"The breadth of content that's available to us is unbelievable, and part of our contractual arrangement with FIFA relates to access in many levels, in terms of production, but also for our own sponsors and partners, and we're able to use the efficient branding in ways that other people can't. And that official status is, like you say, it really is gold; it's very important to us, and it shows our audience just how close we are to the game, and the relationship we have with FIFA," says Shipp.
But for those entering an agreement with FIFA, there's a price. Barnes estimates that, despite how influential FIFA is as an organisation now, partners need to be wary that they're really getting what they're paying for.
"There will come a time when the cost of being involved (reportedly to be about $100 million to buy the rights to partner FIFA, plus the hundreds of millions spent telling everyone about that partnership) may be too high considering the partnership exposure that comes with being associated with FIFA's World Cup. This is in light of the exposure available to ambush marketing brands who do as well by telling their target audiences they are not formally involved.
"However, sponsors will find value in association with the game at many levels and not formally with FIFA, which in turn affects FIFA's ability to attract value to the game and its own members, being the confederations. So the longer confederate members of FIFA are OK with the way FIFA is managing the brand as it has done during World Cup 2010 to higher the risk they themselves will contribute to the devaluing of the brand."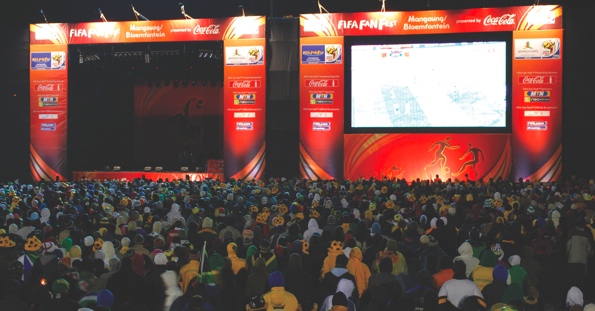 Something for the fans
On top of this coverage, FIFA also offers partners a spot at its FIFA Fan Fests, the Association's major attempt at having a globalised event that runs in as many countries as possible alongside the World Cup. The concept, however, grew naturally through the enthusiasm of football fans. Ralph Straus elaborates: "The Fan Fest is something that has grown naturally. The first time there was a Fan Fest was at the 2002 World Cup in South Korea, which occurred spontaneously. [It was] organised when a lot of fans gathered at a big square in Seoul, and watched a match and celebrated. It was formalised in 2004 for the European Championships with one big Fan Fest in Bordeaux, France, which was a huge success. We took the concept and organised it in Germany 2006 in the 10 host cities. The principal idea was to have a premium viewing quality giant screen, free access for everybody in a secured environment with all the merchandising, food and drinks etc. Not just watching the matches, but really providing an experience."
This was a significant success for the Association. At the 2006 World Cup, FIFA recorded over 18 million visitors to FIFA Fan Fest events – six times the number of people who went to the matches.
"The two main surprising factors were that, first, people actually travelled from other countries just to go to the Fan Fest – they didn't have a ticket, but they just went to the Fan Fest to be part of the experience. Second was that the overall experience was very good: over 90 percent of all the people stated they would go again," says Straus.
"However, one of the things I think we could have done a little bit better was the branding – it was not entirely clear to a lot of people who actually organised those Fan Fests. [Some] thought it was the organising committee, other people thought it was FIFA. Some people even thought it was the beer company who organised it. From a communication point of view, we needed to be a little bit better, but overall it was very good – no hooliganism and no incidents of violence. Now we have taken the concept further and have organised official FIFA Fan Fests in all the host cities in South Africa, and in Johannesburg where there are two stadia."
With a brand this big, with so many cultures, brands and companies involved, how could there not be some hiccups along the way?
During the 1994 World Cup, held in the US, McDonald's and Coke had to destroy products bearing the Saudi Arabian flag (on which is depicted the Islamic declaration of faith) because of consumer complaints.
In protecting its partners from occurrences such as this, FIFA has also been accused of heavy-handed tactics, in some cases using government departments of host countries to prevent 'ambush marketing'. During this year's South Africa World Cup, an English commentator was fired after being accused by the Association of organising a stunt that undermined its marketing policy. The stunt? He provided tickets to a group of attractive girls for a Dutch match, who stripped off disguises to reveal themselves in skimpy orange dresses, which FIFA contended were from a rival beer company to its alcohol partner Budweiser. The girls and the commentator were arrested by local police and held for a few hours, leading to the Dutch Embassy lodging an official complaint. This reaction may seem extreme, but when you consider that punters consumed 1.75 million litres of booze at the 2006 Fan Fest sites alone, you'd probably be pretty protective too.
"We have a whole program in place to protect the rights of our partners, which starts with prevention: preventing other companies from using the FIFA World Cup in an unauthorised way for ambush marketing," explains Straus. "It's things like checking around the stadiums, not only for signs of ambush marketing, but also counterfeit materials. In many cases, it works very well… sometimes it's very difficult and has a bit of a negative PR effect. Where we need to put more focus is on educating people what ambush marketing actually means and why FIFA is acting against that, and it's not about being bad or disallowing other people nice things; it's about protecting the rights, and with this, securing investments into football and into the organisation of the FIFA World Cup, because it's a very, very expensive event to organise. It's pretty much impossible to organise it without the support of the sponsors, and with this comes the obligation for FIFA to protect their rights," he concludes.
Regardless of the media reaction to FIFA's actions, the Association's zeal to protect its partners must make those concerned feel loved and looked after. From Shipp's perspective at SBS, this zeal shows that the Association respects that their partners expect to get what they pay for.
"They're very honourable all around in that way. They are very respectful of [partner] relationships, and in many ways, sponsors and broadcasters alike expect them to protect our brands from ambush marketing. FIFA understands that, because that's why these people are paying big money, and therefore they're very strict about ambush marketing. You've seen them take action here… with the Dutch girls who were wearing the branded dresses. It's absolutely critical. It's like a three-way partnership where everybody protects each other again to make sure that we maximise the opportunity for all the parties concerned, and frankly you wouldn't pay big money unless you knew that you'd have that support from FIFA. I think it's just clever business."
According to Shipp, this three-way relationship extends to interaction between partners – the official partners contact each other to make sure that no one is standing on toes when it comes to their marketing strategies.
"Through our commercial affairs team essentially, from an advertising and sponsorship perspective, we have certain obligations, and we talk to those partners first and foremost when we take our product to market, when we first go to market to sell the event each time. We have very good relationships with them."
All for the round ball
There's little doubt that once you see a controversial decision or a goal scored through dubious means (see Maradona's 'Hand of God' goal in the 1986 quarter final between England and Argentina), the word 'colourful' as a description of the game and its Association is an understatement. Through accusations of cash for contracts and fixed matches, including the collapse of the Association's biggest marketing partner International Sport and Leisure (ISL), the game continues to influence every walk of life. At the time of going to print, FIFA's Australian representative, Football Federation Australia, was facing accusations of hiding money spent on lobbyists and grants to overseas football bodies headed by well-connected FIFA officials.
"FIFA's own reputation seems to be inextricably linked to that of president Sepp Blatter, much like the IOC's reputation was to Juan Antonio Samaranch. Thankfully, the game's reputation is not and I suspect that even in a crisis situation where FIFA was brought to account, the game at confederation and national federation level would continue with little disruption in terms of how the game is played for the masses," explains Barnes.
Barnes points to the dismissive and 'autocratic' way FIFA has reportedly treated the nation of South Africa as an example of how its actions will leave a major percentage of the 'masses' that it purports to represent feeling less than happy.
"The brand will be affected as these are the same people who play the game back home, buy tickets and merchandise, and volunteer to run the game at every level below FIFA. Football transcends language, ethnic background or socio-economic status to be loved and followed by billions of people.
"FIFA's brand is affected by the perception of the people representing it publicly, given its mass media coverage and penetration in all media markets in the world. So when its spokespeople are portrayed as dismissive and autocratic during its flagship event, brand FIFA is also portrayed as such which effects everyone connected with it."
In many cases, FIFA accepts the failings of the game and its members being representative of humanity – flawed but ultimately there to further the FIFA cause and the game.
As Shipp puts it, "I respect FIFA's decisions about the game. The game is beautiful, the game is human; it has its faults. I respect that."
This sentiment is reflected in the take-up of football as a sport. According to a report undertaken by FIFA, there are now 265 million footballers, both male and female, in the world. If officials and referees are included this number increases to 270 million people actively involved in the game.
Looking toward the future is at the core of FIFA's existence. Without this focus, it would never be able to put together an event as huge as the World Cup, help develop the players that will get there and aid the countries that dream of hosting it.
"I think you need to develop the future before you can have the history. So as soon as the 2010 FIFA World Cup is over, the things that lag are the memories, and the memories evolve into the historical value of such a tournament," says Straus.
"I am a passionate football fan. It's not the primary reason I work for FIFA, [but] I think it definitely is a big part of it. Football – everything within FIFA is about football, and if you don't have any passion for the game, then it's probably very difficult to work for an organisation like FIFA."
While researching this article, each person I speak with spends just as much time talking about the game that has just happened in the current World Cup or why they are enamoured with the game overall, as they do answering my questions. The word 'passion' comes up again and again, which says everything.
For FIFA it's about keeping these people happy, not just every four years, but every hour of the day. Then, at the end of those four years, the gods release the lions again.
« Taking the web to mobileThe world's cartridge – HP brand profile »