Brands in support of Black Lives Matter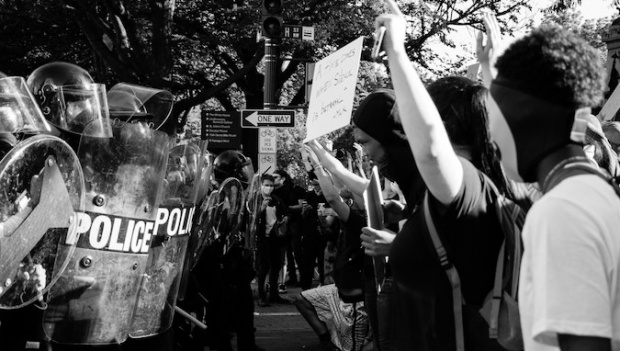 Following a week of protests spawned by the tragic killing of George Floyd, the Black Lives Matter movement has irrefutably captivated the entire globe. Protests have erupted across America and in cities in Europe, the UK, Japan and here in Australia. In what the New York Times has dubbed "the biggest collective demonstration of civil unrest around state violence in our generation's memory" there is mounting pressure on public figures, celebrities and brands to take a public stance.
From sharing a black square on Instagram in a potentially performative gesture of support (or in fear of the dreaded call out) to taking a firm stance and/or donating money and resources to the cause, there is a spectrum of responses from businesses, both big and small. 
Dr Abas Mirzaei, a senior lecturer at Macquarie Business School, has been studying 'woke' (awake to important social issues, discrimination and injustice) marketing campaigns for the past two years says: "If brands genuinely care, they need to respond relative to their power. Claiming and offering support without demonstrating effective change in behaviour is toxic for brands."
According to data from Forrester, 31% of 4,818 US online adults say that a company's social responsibility reputation is influential to their purchasing behaviour. Brands and marketers alike know that a sense of social and corporate responsibility is becoming increasingly more important to consumers.
Here is a round up of some of the brands that have come out in support of Black Lives Matter and how they have done it:
Ben & Jerry's
American ice-cream company Ben & Jerry's has a history of campaigning against racial inequality and has vocally supported the Black Lives Matter movement for a number of years. The brand is known for publishing progressive content online covering a range of issues covering LGBTIQA+ rights, refugees and the environment. 
In a statement published on its website and across social media, Ben & Jerry's has not minced its words. In one of the strongest public statements that any brand has made, Ben & Jerry's has said that police brutality "is perpetuated by a culture of white supremacy".
The brand has outlined a list of concrete steps to dismantle white supremacy on its website, including supporting the H.R. 40 bill that calls for reparations for African Americans.
An authentic approach is key. While many brands have been criticised for purporting to support issues but not taking action, Ben & Jerry's has a history of teaching its staff about structural racism, focusing on diversifying recruiting channels and creating foundations and funds for causes that they care about. The co-founders of the brand aren't shy about standing up for what they believe in and were arrested when attending the 'Democracy Awakening' protests in 2016.
The murder of George Floyd was the result of inhumane police brutality that is perpetuated by a culture of white supremacy. https://t.co/YppGJKHkyN pic.twitter.com/YABzgQMf69

— Ben & Jerry's (@benandjerrys) June 2, 2020
Lego
Danish owned toy company Lego has publicly announced its support of the black community and pledged US$4 million to "organisations dedicated to supporting black children and educating all children about racial equality". 
Beyond the pledge, Lego paused marketing of police related toys on its owned channels and privately asked their retailers and affiliates to do the same. There was a sizeable backlash from the media once this information was leaked and outraged parents on social media who do not approve of the brand's political stance, prompting a public response from Lego.
"We requested that our affiliate partners refrain from posting promotional LEGO content as part of our decision to respect #BlackOutTuesday and pause posting content on our social media channels in response to the tragic events in the US. We regret any misunderstanding and will ensure that we are clearer about our intentions in the future," said a Lego spokesperson to industry trade magazine The Toy Book.
View this post on Instagram
Lush Australia
Lush, a popular handmade cosmetics retailer, has supported the Black Lives Matter movement by including petitions on its global website and taking a stance with a statement addressed to its staff. 
Locally, Lush Australia has posted about racism closer to home: "We aren't immune to racism in Australia, and organisations like our Charity Pot Partner @democracyincolour are working to dismantle systematic white supremacy."
Lush has followed up by publishing resources about Aboriginal deaths in custody and supporting Aboriginal-led organisations who are pushing for change. Lush has historically supported some Aboriginal organisations through its Charity Pot program and campaigned in-store and online for racial justice.
"Businesses need to move beyond statements to show genuine solidarity and allyship through action and listening to people of colour with lived experience. We admit that we are late to the table and that, like society, Lush needs to change and do better," Lush ANZ director Peta Granger told Inside Retail.
Nickelodeon
In a symbolic show of solidarity, Nickelodeon went off air for eight minutes and 46 seconds. The timing represents the length of time Derek Chauvin kneeled on George Floyd's neck and back.
Nickelodeon also highlighted its 'Declaration of Kids' Rights' on social media, which details six key rights every child is entitled to, including "the right to be treated with equality, regardless of the colour of your skin". The children's television channel has also published "anti-racism resources" and actions that families can utilise.
Nickelodeon has not shied away from online criticism of its stance and have answered comments directly and firmly on social media.
we are all part of the change #blacklivesmatter
✊🏿✊🏾✊🏽✊🏼✊🏻 pic.twitter.com/Y3Fzvob54X

— Nickelodeon (@Nickelodeon) June 1, 2020

Fenty
Fenty Beauty, a cosmetics brand launched by singer Rihanna, stopped operating on Blackout Tuesday in a statement of solidarity with the Black Lives Matter movement. Fenty has also published a range of resources on where to donate and how to vote for long-lasting change.
Fenty has widely been praised for its diverse marketing campaigns and inclusive colour range of make up since the brand launched in 2017. Fenty, Fenty Beauty and Savage x Fenty stated that they are putting " $$ where our mouth is" by donating an undisclosed amount to charities associated with Black Lives Matter.
View this post on Instagram
Aesop
Aesop has written a series of posts on Instagram about the situation and has committed "as an immediate action" US$100,000 to support organisations that fight racial injustice and promote opportunities for Black people. 
Quay Australia
Sunglasses brand Quay Australia has made posts about Black Lives Matter and donated $50,000 to organisations that "support the fight against racial injustice", including both US charities and local organisations that support Aboriginal people. Quay has pledged to donate a further $100,000 more before the year ends.
Culture Kings
Streetwear retailer Culture Kings released a blog saying that all proceeds made on Saturday 6 June would go towards supporting the Black Lives Matter movement. The brand, which says that its heavily influenced by "the sport and music culture that is led by African Americans" wants to bring further awareness to the movement. The brand has also highlighted racism faced by Aboriginal people in Australia.
"It is our individual responsibility to educate, both ourselves and others, and spread global awareness of the ongoing challenges the Black and Indigenous communities continue to face."
Nike
Sporting brand Nike has made a $40 million commitment over the next four years "to support the Black community in the US on behalf of the Nike, Jordan and Converse brands collectively". 
Nike has been a long supporter of equality and a statement on the brand's website reads that they have donated US$417 million "to drive positive impact in communities around the world" over the past five years – with a large portion of this money dedicated to racial equality. The company has also committed to supporting inclusivity and diversity in its workforce.
Nike has received a lot of media attention with its sponsorship of NFL quarterback and outspoken civil rights activist Colin Kaepernick.
On social media Nike published a compelling video that plays on its infamous slogan with the words "Don't Do It" in relation to racism. The video has had 7.4 million on Twitter alone.
Let's all be part of the change.#UntilWeAllWin pic.twitter.com/guhAG48Wbp

— Nike (@Nike) May 29, 2020

Photo by Koshu Kunii on Unsplash.
« How to execute a cause-led disruptive marketing strategyAvoid the rabbit hole: three questions marketers should ask their data »