Apple claims 25 billion app downloads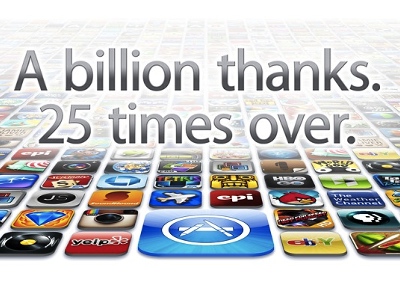 Apple has announced the 25 billionth download from its App Store today, after surpassing that mark at the weekend.
A countdown (or, countup, rather) had been displayed on the App Store's front page in the days lading to the milestone, which occurred when Fu Chunli of Qingdao, China downloaded the game, 'Where's My Water?'. Fu's reward for downloading the free game? A USD$10,000 iTunes gift card.
Apple senior vice president of internet software and services, Eddy Cue, thanked customers and developers in a statement this morning: "When we launched the App Store less than four years ago, we never imagined that mobile apps would become the phenomenon they have, or that developers would create such an incredible selection of apps for iOS users."
Also launched in 2008, Google announced in January that its Android Market had hit 11 billion app downloads, while RIM last month claimed its BlackBerry App World had surpassed 2 billion downloads.