Australia now has 1.9 million SMEs but revenue is decreasing – MYOB report
The number of small and medium businesses in Australia has grown 1.4% in five years to 1.9 million with most taking a smaller slice of the revenue pie, according to MYOB's Five Year Business Monitor Report.
The biannual national survey of more than 1000 small and medium size businesses found that despite the increase in the number of businesses, revenues are declining.
It follows news from American Express' 'Shop Small' campaign that 41% of small businesses don't see life beyond five years.
The difference between the proportion of businesses reporting declining revenue and those seeing revenue gains has fallen from a net 20% in 2009 to a net 10% this year.
In 2012, despite national GDP growth peaked at 3.6%, 41% of businesses recorded an annual drop in revenue, the highest drop in the five years recorded. In 2012, 18% of businesses' revenue increased.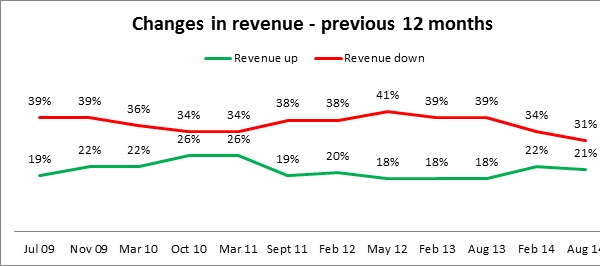 Business operators told the MYOB survey that they had experienced increased operational pressure over the last five years. While fuel prices, cash flow, price margins and the timing of customer payments rose significantly, historically low interest rates eased some of this pressure.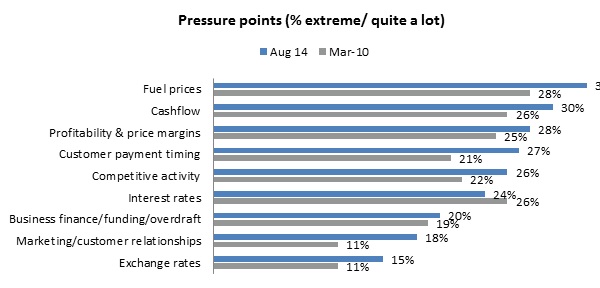 Lower revenues over the last five years have forced businesses to pull back on investment somewhat but business priorities have remained stable. The top three areas that SMEs have increased investment in over the last five years are:
Customer retention strategies,
customer acquisition strategies, and
the number or variety of products or services offered.
MYOB CEO Tim Reed said the report showed that businesses have been tested over the last five years but many had endured the challenges well.
"They are continuing to invest in their people and their communities; they are doing more – often with fewer resources; and they have increasingly been taking advantage of technology to become more nimble and more innovative. I believe that is the real strength of Aussie business – we are adaptable and, with the right government policies and professional support, can cope with whatever the economy sends our way."
Dissatisfaction with the federal government(s) both rose and fell over the last five years, from 39% in mid-2009 to 57% in May 2012.
Dissatisfaction fell to 32% when the Coalition came to power but has risen slightly to similar levels seen in 2009 under Labor.
"The Coalition Government has demonstrated a business friendly agenda. However, it is likely some frustration is being seen in the SME sector at the pace of change and the time it is taking for policy initiatives to be felt amongst the nation's small business community," Reed said.
Photo credit: Alpha CC-BY-SA via Flickr.