Billboards take aim at White Lady Funerals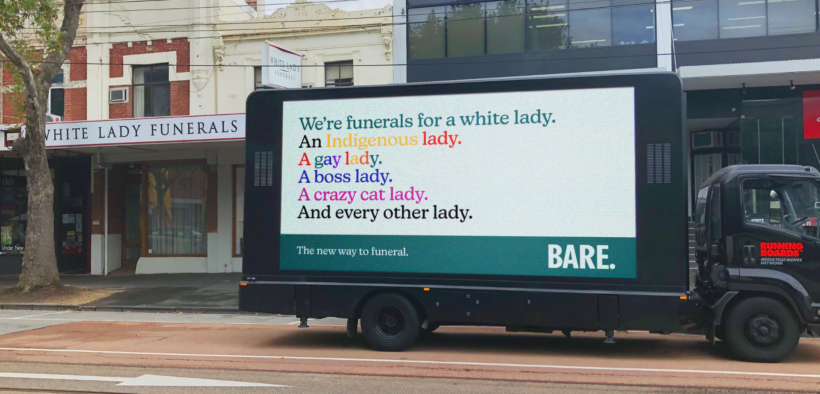 2022's International Women's Day is themed around #BreakTheBias. To celebrate the day and this theme, Bare Cremation has gone straight for the competitor White Lady Funerals in a cheeky billboard campaign.
New to market is Bare Cremation – a funeralcare disruptor. The brand has taken aim at industry leader White Lady Funerals. With billboards put up outside White Lady locations, Bare pushes to have the public know about its inclusivity. The company says that it wants people to know about its own diverse, equitable and inclusive side.
The cheeky billboards announce the funeral and cremation provider as funerals for "white ladies, as well as ladies of every colour, sexuality, personality, profession or whatever makes her the lady she is."
Bare's head of customer experience, Daphney Adams, is a former White Lady herself. She says of the controversial message: "Until Bare came along, there was a one-size-fits-all funeral model. But society's values and cultures have evolved. 
"Today's women, men, everyone, want different things when it comes to their own farewell. They deserve nothing less, so the industry needs to adapt. At Bare we want to represent all women, not just on International Women's Day, but every day. That's why I'm proud to be part of Bare – as Australia's new way to funeral."
The billboards are on OOH bus stops as well as being mobile.