Campaign weekly wrap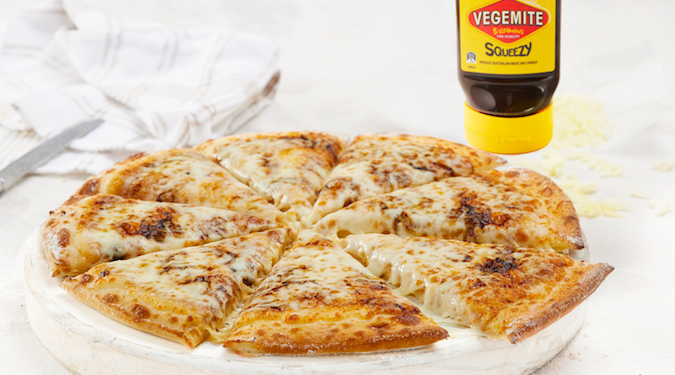 From an Aussie classic flavour turned a little cheesy to a bottle-o rescuing discarded fridges, what happened this week campaign wise?
Domino's divides the internet
It's a taste synonymous with Australia, and a food synonymous with Italy. But it's all about fusion food. Vegemite has teamed up with Domino's and created quite the stir online. Why? Vegemite flavoured pizza. Responding to a social media poll conducted earlier this year, Domino's asked if consumers wanted the unique combination. With 30,000 respondents and 12,000 comments, the answer was an overwhelming 'yes'. 
The pizza flavour has stirred some controversy online, with some consumers excited by the flavour, and others not so much.
The Vegemite pizza will be available for three weeks.
Osher revives Andrew G
In a throwback to the 90s, TV and podcast host Osher Günsberg has reverted to the Andrew G persona that made him famous for a Connect Hearing ad campaign. In a 60-second spot, Günsberg encourages Australians to take care of their hearing. Asking them to take the brand's online Speech Perception Test, his spot puts the realities of bad hearing in the spotlight.
Dressed up as his younger self, Günsberg reflects on the moments when he realised he was hard of hearing. The ad shows Günsberg confusing words like 'make-up' with 'break-up' during dinner, and messing up people's names.
Nutri-grain celebrates reopening
With the 106-day lockdown in Sydney finishing this week, sport fields, basketball courts and pools are opening up. And cereal brand Nutri-Grain is celebrating the freedoms with a new online film. 
Released via Wunderman Thompson Australia, the film is a reminder for children, teens and adults of everything they love about sport. Kellogg's Australia senior marketing manager Breakfast Portfolio, Dan Bitti, says, "COVID restrictions have tested professional athletes, but they have also put an enormous strain on local sporting teams." 
The 60-second spot is streaming online now.
A second life for discarded fridges
The Bottle-O has called on Australians to find new homes for abandoned fridges that may have some life left in them. The 'Fridge O-doption Program' rescues fridges and gives them a makeover and a new lease of life.
General manager, Marketing for The Bottle-O, Josh Gaudry, says, "Australians often discard their old fridges kerbside, which sees them end up as landfill. Sometimes all they need is a little repair, a little love."
Teaming up with five street artists, The Bottle-O has helped the fridges to become art in a program that shows landfill isn't the only option for abandoned fridges. The program will run for six weeks, ending 21 November.