Case study: how The Powerpuff girls reached a new generation of fans and their parents
This case study examines how Cartoon Network leveraged TV, social, and influencers to reach a new generation of  young fans and re-engage an audience of parents that watched The Powerpuff Girls when they were children.
Background
The Powerpuff Girls is one of Cartoon Network's most popular and enduring brands. The latest series premiered in April this year, 18 years after its initial global debut. The campaign for the new series launch aimed to reach a new generation of young fans as well as reengage an audience of parents that watched the series when they were children.
The strategy incorporated elements that reached beyond the traditional TV space including apps, websites, YouTube influencers and various distribution platforms, to reach new potential fans. The campaign in Australia follows one that was launched in the US which incorporated Periscope, iTunes and included a fashion partnership with Jeremy Scott and Moschino.
With more than US$2.5 billion in retail sales generated since its debut in 1998, The Powerpuff Girls is one of the top-grossing Cartoon Network brands of all time.
Objectives
The campaign aimed to publicise the return of The Powerpuff Girls to the Australian market and to encourage people to tune in to Cartoon Network to view the series. It took a digital-first approach with the intention of targeting the show's core audience (kids 5-12 years old) and millennials. The campaign's success was measured on achieving engagement beyond standard TV ratings.
Strategy
The Powerpuff Girls campaign was launched at the beginning of April 2016 and ran throughout the month. The campaign strategy was adapted to suit changing media consumption habits in Australia, with a shift towards the digital space. Turner's annual 'New Generations' study into kids' media viewing habits guided the roll out strategy, which took a digital-first approach to increase campaign reach with social and influencer components.
This supported the program roll out on TV, Turner's strongest channel.
Cartoon Network has never had a show launch that has hit so many different platforms and expanded its audience across so many linear and non-linear channels. Significantly broadening campaign reach outside of pay TV channels, Turner incorporated platforms like YouTube, Facebook and a free teaser video iTunes. In just three days the teaser video had already amassed 336,000 views on Facebook, with 1.2 million people reached.
Execution
The following campaign components were executed throughout April 2016.
The Powerpuff Girls teaser clip
A teaser campaign was activated on Cartoon Network's Australian Facebook page which included a sneak peak of an episode. This achieved over 330,000 video views across the Easter long weekend including a large amount of millennials (total of more than 1.2 million people reached).
The 'Painbow' episode was also watched before launch via a teaser clip on Cartoon Network's Australian YouTube channel, with 6,480 views.
Free iTunes episode
A new episode of The Powerpuff Girls was made available to download on iTunes for free from March 15 – April 5, streaming concurrently with the TV premiere on Cartoon Network's regional websites and YouTube channels.
TV roll-out
For the first time in Turner's history, one series took over all of its channels on-air for the premiere.
General entertainment channels including Warner TV, Oh!K and TCM Turner Classic Movies broadcast the debut episodes in addition to Turner's kids channels, Toonami, Boomerang, POGO and Cartoon Network.
Digital millennial influencer partnership
Australia-based YouTube influencer, Jamie Curry of Jamie's World featured a 'watch along' video hosted on her YouTube page. Jamie watched the 'Tiara Trouble' episode and gave commentary on it to her followers.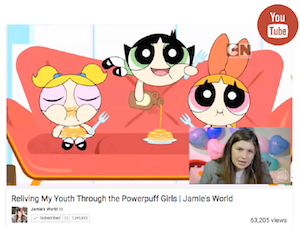 Millennial influencer partnership
Adding another Australian angle to the launch, winner of The Voice Kids Australia, Alexa Curtis, was brought on board to localise the The Powerpuff Girls theme song. Turner ran the music video on air, YouTube, Facebook and their website.
This aired across new The Powerpuff Girls episodes from April 9 and a music video featuring Alexa aired on April 26, across Cartoon Network, Cartoon Network and Alexa's YouTube channels and the Cartoon Network website.
In addition
PowerpuffYourself.com has created 15 million avatars globally. This includes 160,000 users in Australia – the third largest in APAC.
Apps like the innovative Flipped Out game encouraged stronger awareness for the title.
Results
The Powerpuff Girls free Facebook episode encouraged a large increase in social media reach to previously untapped fans. The video reached 892,360 people and gained 657,770 impressions.
In total, Cartoon Network's Australian Facebook page grew by 3,094 during April (over 10% of the Australian fan base) – the highest recorded growth for the Australian page in one month.
The network had never had a show launch that hit so many different platforms and expanded reach across such a wide variety of linear and non-linear channels. The Powerpuff Girls have been a great success since launch, belonging to the top five Cartoon Network favourite shows.
The Jamie's World video recorded 192,000 total views (4400 of which were on CN's YouTube page), and achieved total engagement of 177,510 and 1.5 million impressions.
The watch-along video, via Jamie's World YouTube page, generated 100,000 views and 3000 likes, reaching new and previously untapped demographics.