Dame Edna chooses Jenny Craig over tape worms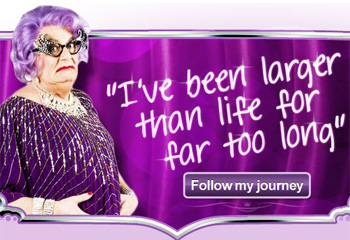 Dame Edna Everage is the latest in a long line of 'gigastars' (their word) to endorse the Jenny Craig brand.
As she prepares for her farewell tour 'Eat, Pray, Laugh,' she has turned to the weight loss service to help her lose 15 kilograms. Why? To fit back into the flamboyant stage outfits she is renowned for, of course. "Soon, some of the frocks I was going to give to the Salvation Army will be wearable again," Everage says.
The grand dame's 'manager' Barry Humphries has also signed up in the deal, which will see the pair document their weight loss journey in blog posts on Jenny Craig's website. Writing to the press, Everage said, "Possums, Barry and I both appreciate the influence we have over our adoring public. Just like the Beckhams, people follow and copy our every move. And lately, well let's be brutally honest, we've let ourselves go and haven't been good role models."
The campaign, developed in-house, features a TVC, and print and social media components.