Enhancing occasion-based marketing with social listening and online analysis
It's something marketers have long known: consumers eat and buy based on occasions, not by demographics or psychographics. Therefore, leveraging an occasion – like the fast-approaching Easter period – presents a real business opportunity.
And now, more than ever, occasion based marketing campaigns can be greatly enhanced by incorporating social listening and online analysis into the marketing mix.
As part of our ongoing research on occasion marketing here at Online Circle Digital, we have used digital intelligence software (called Social Pulse) to listen to social media conversations and analyse online trends around Easter. The hypothesis is simple: by analysing 2013, can we understand more about, or predict certain behaviours that we can leverage in the marketing space in 2014?
Our study included more than 800,000 pieces of shared public content, such as Tweets and Facebook updates, plus more than one million Google searches from 2013.
Here are four key things we discovered:
1. The best time to start and finish an Easter-driven campaign
Having analysed online mentions from December 2012 to April 2013, we found that Australians began publicly talking about Easter on Twitter just two to three weeks before the actual occasion. Day by day, mentions grew significantly higher in the last week before Easter.
Perhaps not surprisingly – given retail's penchant to swiftly transition from Christmas turkeys to hot cross buns and chocolate – there were some negative consumer responses to the immediate shift from Christmas to Easter with associated negative sentiment often directed at the retailer (eg. 'Retailer X just ruined my last days of Christmas').
As Easter drew closer, a positive trend emerged with the steepest growth in positivity occurring two to three weeks out. As you would expect, online mentions quickly petered out in the days after Easter.
Our recommendation: Capitalise on and leverage this trend by activating your campaign in the two to three weeks before Easter, and wrap up promptly following Easter Monday. Also, pay special attention to the first day of the Easter long weekend – it has the highest online activity for shopping-related mentions.
2. The best time of day for Easter online advertising
Analysis revealed that online conversations about Easter shopping took place during typical store opening hours. The audience posted between 9am and 5pm, peaking at 11:30am.
Our recommendation: Take advantage of this insight to plan for real-time social media – both paid and organic – as an opportunity of consideration-marketing (eg. last minute shopping, leisure, entertainment and not-for-profits).
3. The relationship between Easter and retail
Our study also shows the deep relationship between Easter and retailers. Among the retailers regularly mentioned and searched for online during the Easter period were Coles, Big W, Woolworths and Kmart. Opening hours and catalogues were both key conversation topics.
We discovered obvious correlations, such as the increase in online searches for Easter recipes and food with searches for convenience retailers, and less obvious, hidden opportunities. For example, online searches for 'Easter colouring in' peaked just before the long weekend, on 28 March. Our preliminary data analysis of 2014 trends also shows a sharp increase in DIY activities, with online Easter mentions and searches connected with retailers like Bunnings.
Our recommendation: Think about who your audience is for the occasion, and the different ways you can engage with them. From colouring in competitions for kids to in-store to gifts with purchase.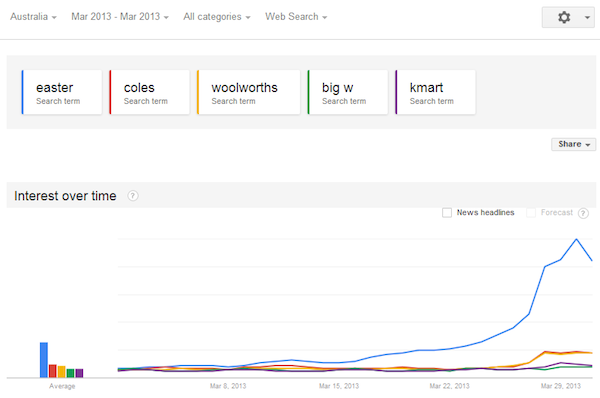 4. The opportunities other than English
Given Australia's multiculturalism, Easter related searches and mentions don't only increase in English but in a consumer's native language too. For example, mentions in Australia of 复活 节 (that's 'Easter' in Mandarin) also grew exponentially in the lead up to the occasion.
Our recommendation: Show your customers how much you value their loyalty by considering a digital execution in foreign languages spoken in Australia.
The way to enhance your occasion-based campaign
While all of these insights are incredibly useful and should enhance your occasion based campaign, remember that an occasion is ultimately about the personal time consumers spend with family and friends. So don't overdo it on their special occasion, be that great guest that everyone loves to have around.
Provide convenience and value. Prepare your tweets and Facebook updates appropriately, following the above recommendations. When consumers are ready for some downtime, your brand can be ready and waiting for them.
Have a great holiday.
Lucio Ribeiro is lead strategist at Online Circle Digital in Australia.