Fairfax to test pay walls overseas ahead of mid-year local launch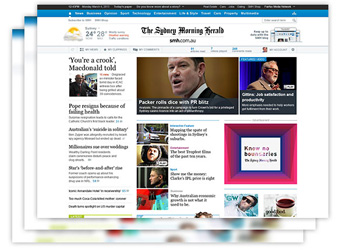 Fairfax will introduce pay walls to The Age and The Sydney Morning Herald in a handful of overseas test markets next week ahead of a mid-year Australian launch.
A 'metered' digital subscription model will be introduced on the website in three overseas test markets on 26 March ahead of the local roll out, while the apps will be updated to a freemium model, the publisher revealed today.
The website's metered model will give readers access to a number of free articles every month before prompting them to subscribe for $15 per month. Overseas readers will be capped at 10 free articles monthly, while the number will be set higher in domestic markets, reflecting the different consumption patterns.
Fairfax's Metro Media CEO Jack Matthews says the company is confident the metered approach is the right way to go. "It was always our plan to launch into overseas markets first to test our technology and to make sure the customer experience is a good one," Matthews reveals.
"The meter model is proving to be the most successful with publishers overseas because it's easy to understand and it enables less frequent readers to continue to visit the websites, just as they do now."
Fairfax appears to be treading softly with a number of concessions included as goodwill for readers. Current two-day or more print home delivery subscribers will automatically receive full digital access in their packages. And visits to the masthead homepages, photo galleries and videos will not count towards readers' free article allocation.
The tablet apps for The Age and The Sydney Morning Herald will remain free in every country until the pay wall is released in Australia later this year, when it will click over to a freemium model with several free sections and others available only for subscribers.
Subscribers will also receive access to a new range of features including a research tool developed in partnership with the University of Sydney that unlocks Fairfax archives, interactive eBooks curated by Fairfax journalists on specialist topics and unique offers, event invitations and access to other digital products through a domestic rewards program.
Fairfax editors and reporters took to video to explain the rationale behind the pay wall to readers:
The trial periods will be launched in North America, Europe and the Middle East, while readers from New Zealand and other Asia-Pacific countries will also be subject to the pay wall from mid year.
Initially, overseas subscribers will only be offered the option of unlimited website access from any device for $15 a month. Domestic subscribers will have access to additional subscription types, such as tablet apps and 'all digital access' packages, as well as bundles that include weekend and daily print home delivery. Digital access will include visits to the website from any device.
The move follows the launch of The Age and The Sydney Morning Herald in compact format early this month.
"The landscape has changed enormously over the past few years and our readers understand that we must introduce subscriptions so we can keep bringing them the best in digital news innovation," Matthews believes.