How Australia's press freedom woes are changing media models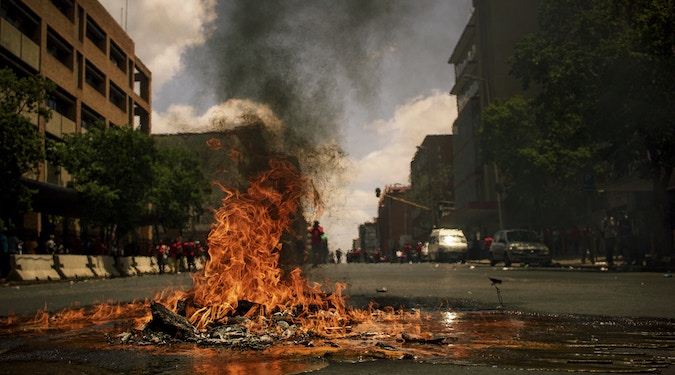 The Australian media system is a multivariate problem that appears to be designed just to give you a headache; luckily, we got to speak with associate professor Johan Lidberg.
As we near the close of the decade, we are very much still in a transitionary period of media distribution – still dealing with the death of print and a migration to digital, but also contending with the newer problem of publishing on social media.
In addition, it appears we're at a boiling point when it comes to journalistic freedom in this country. Only this year, we've seen reporters' homes searched and newsrooms raided and, in response, major mastheads are beginning to kick back with menacing blacked-out front pages.
But is it too little too late? And how will continued troubles with media freedom impact the way the industry makes money?
Johan Lidberg, associate professor and lecturer at Monash University's School of Media, Film and Journalism, has hope. According to him, the more autocracy we see arise in our media laws, the stronger journalism actually becomes. He points to the steady rise in subscriptions in the US as an example, where a confusing Trump presidency has created a yearning in many Americans for reliable news sources.
Prometheus
These past few months have been underpinned by a growing tension between global politics and social media platforms, for reasons spanning Congressional hearings, cryptocurrency and, most pertinently, political advertising.
Last month, in a moment almost immediately immortalised in meme form, New York Congresswomen Alexandria Ocasio-Cortez grilled Facebook CEO Mark Zuckerberg – as part of his marathon six-hour Congressional hearing – on the social media giant's official policy to not fact check political advertising.
Facebook has framed its policy as 'we will not be the arbiters of truth, it's up to audiences to discern fact from fiction', while its critics prefer to see it as 'Facebook allows politicians to pay to spread misinformation'.
"To my mind, this comes down to whether Facebook and Google own up to being publishers, or whether they'll keep maintaining that they are platforms," says Lidberg.
"There's a good parallel from a legal point of view: remember The Pirate Bay, the big Swedish piracy website? It was ultimately taken to court by a conglomerate of rights holders who said that [Pirate Bay] was making ad money from hosting those torrent files. 
"Pirate Bay claimed, 'no, we are not responsible here. We are only the keepers of these files; it's the people that upload, download, leak or leach this content – they are responsible, not us. We are only the provider'."
In the end, The Pirate Bay was found guilty of promoting copyright infringement, and its four owners were each sentenced to one year in prison. All four individuals later appealed the verdict, and successfully won a reduction in jail time, but somehow also prompted an increase in damages.
"You hear a very similar claim from Facebook and Google, though this is much more serious than Pirate Bay ever was," continues Lidberg, "I can't think of any other example where someone with such incredible reach could say 'no, we are not responsible for what's being put up there, we are only an independent provider'. 
"You can't say that when you have the impact that Facebook had on the last couple elections now, it just doesn't wash anymore."
Twitter has seen some of the spotlight on this issue too; recently the social giant made a very public overhaul of its ads policy to ban all political advertising that aims to influence candidate, political party, election, referendum, ballot measure, legislation, regulation, directive or judicial outcomes.
"We have made this decision based on our belief that political message reach should be earned, not bought," reads Twitter's policy document.
In Google's corner is a less exciting, but perhaps equally significant ads policy update. Throughout its various platforms – YouTube, search and display – Google will restrict political advertisers to targeting with only age, gender and general location (post code).
Twitter's updates are now in effect, and Google's will come to Australia on 6 January.
Prior to its recent announcement though, Google has so far been able to fly under he radar "to a great extent," according to Lidberg. "It's been able to hide behind Facebook, which is taking most of the flak."
"I have not done extensive studies on political ads on Google, but someone really should. Someone should look at what turns up in the ad field to the right when people use Google['s products]."
Migration frustration
A Swedish-Australian, Lidberg has been living in Australia for 21 years now. "When I started practicing as a freelancer here before I moved more into academia, I was absolutely shocked by the state of media freedom, the poor functionality of freedom of our information systems and the weirdness about whistleblowers instead of protecting them."
"We don't see that in any other mature liberal democratic country. It's frankly a disgrace, to be honest."
For many Australians, the 'weirdness' of our media freedom systems goes unnoticed on the whole. And that's worrying for Lidberg.
"Australian media has so far done a pretty poor job of explaining to Australian citizens and members of the public why this is important – why it's about more than media freedom.
"There's no choice anymore. You can't just do one day of blacked-out front pages, you have to really push this as much as you possibly can.
"I use the phrase 'police state' really carefully because it's something that people throw around too lightly. But I was in Canberra to give evidence to the Senate Inquiry into media freedom. To me, it goes beyond media freedom, it actually goes straight to civil liberties. 
"Media freedom is at the pointy end of it, but we can see it creeping into other civil liberties."
Lidberg references an example from earlier in the year, when minister for home affairs Peter Dutton and senator Michaelia Cash implied that environmental demonstrators surviving on welfare should be stripped of their government support.
"What sort of democracy is that? That's why I think we can say that we are clearly on the path to a police state – being defined by impinging on civil liberties that we absolutely take for granted in a free and democratic country.
"It's pretty serious, and pretty sad to have to say that."
Culmination
And where do troublesome political advertising positions, the worrying state of Australian media freedom and evolving media models combine? 
You could be forgiven for viewing them as a dizzying nexus of isolated issues, but you'd be wrong.
"There's a few different schools in journalism studies," Lidberg explains, "where quite a few people that came out of the old newspaper background were wringing their hands saying 'it's the end of the world, the big mega-newsrooms of The Age and Sydney Morning Herald are going [away]'."
"I, myself, come out of a broadcasting background. I've never equated journalism with newspapers; to me, they were just one part of the sphere. Those old newsrooms were great insofar as they could cross-subsidise into other parts of media and journalism, but they weren't to be." 
In the heyday of print, Fairfax, for example, was comfortably sitting on profit margins upward of 20% (when any other business would have been elated with 12-15%. "They were just raking in so much money, the owners became complacent," Lidberg explains.
"There had to be a transition. It's been very painful, but I can foresee a future – things have now fragmented, broken up – with many more opportunities, many more options for new operators to come and go.
"Journalism – at least analytical, public interest and investigative journalism – is probably one of the last areas that will be automated because it's too complex for artificial intelligence [for now]. 
"When you deal with human sources and that stuff it would be very hard. I have quite a bright view of journalism in the future. And the more autocratic leaders we see, the stronger journalism actually becomes because it comes to the fore.
"The business model is still unclear, but we're seeing different combined models. For example we're seeing The Guardian finally breaking even with its combined model. We're seeing subscriptions go up significantly in the US because of Trump. We're seeing different models of sponsorship. 
"I don't have a problem with the different models as long as you're open and honest with your audience. If the reader knows that this is sponsored or paid for by a company that is being covered in the story, that's fine – the problem occurs when it's not open and transparent.
"We'll see new models emerge."
Further Reading:
Image credit:Pawel Janiak