How Soothers turned its Achilles' heel into its greatest weapon
Coles' decision to delete Soothers products from its range meant the brand had to fight for its life. It leveraged a gold nugget of consumer insight that turned the tides.
This article originally appeared in The Experience Issue, our February/March 2018 issue of Marketing magazine. 
Campaign: Soothers 'soothes any number of sore throats'
Client: Soothers
Agency: Ogilvy Sydney
Background
In a category that was all about product effectiveness, Soothers was seen as tasty, not effective. Over the years, increasing competition from hardcore medicinal brands with louder voices and bigger spends had forced our core range into a year-on-year decline of four percent per annum. For a struggling brand with little differentiation, by 2015, supermarket giant, Coles, made the decision to delete all of our SKUs (stock keeping units) except one, immediately wiping out our distribution by 30%. With the supermarket having made up approximately one-third of total sales in the previous year, we knew we were in a fight for our lives.
We had two choices. Continue as we always did and try and prove that, despite our great taste, we were just as effective (a fight we had been trying to win for years with little success). Or we had a second choice, which was to find a completely different race to run.
We chose the latter.
Objectives
With such a devastating loss in distribution, our primary goal was to stay alive. In order to do this, our new strategy and campaign needed to deliver some key results in 18 months. In order for the work to be deemed a success, by the end of 2016, we needed to achieve the following:
Halt the projected sales decline and maintain our market share of 12.6%. This was our market position before the Coles deletion.

Halt the sales loss of our hero core range by end of 2016. An ambitious target considering the core range had been in consistent decline since 2010.

Increase consideration from a score of 48 to 54 by the end of 2016 to drive an increase in sales in channels outside of Coles.
Strategy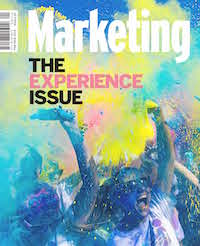 We knew that we needed to find a way to talk about Soothers and sore throats in a way that was different and unique. So we went back to the start, back to the consumer.
Through focus groups and quantitative research of the target audience, we uncovered a remarkable nugget of gold: of all the people who bought sore throat lozenges, an incredible 34% of them didn't think they were actually 'sick' when their throat was sore. They just saw it as a consequence of living life to the fullest. This was our light bulb moment. While competitors were focusing on sore throats from a cold or flu, they were actually turning off approximately one-third of the market. Every time they ran an ad with cartoon germs and stuffy noses, one third of the market didn't think it was relevant to them.
We had found a new audience with an unmet need that Soothers could uniquely fulfil. Rather than just curing sore throats from a cold or flu, Soothers was going to be the solution to all sore throats. While other brands were competing against each other with medicinal credentials, we were going to be the solution for every other sore throat.
Execution
This was the start of the campaign 'Soothers soothes any number of sore throats'. While our competitors continued to tout claims like 'antibacterial', 'antiseptic' and 'triple-action', with imagery of bacteria and rainy days, we took a completely different tack. Rather than talk about 'traditional' sore throats, every sore throat became a creative goldmine. Whether it was the 'karaoke-marathon sore throat', 'the Godfather sore throat' or 'screaming at the footy sore throat', Soothers could soothe them all.
Brand film
Since we needed a big reset in people's minds, we launched loud and we launched early with a brand TVC that was on-air almost two months before the beginning of winter. We put in as many sore throats into the 30s spot as we could. From the 'talking over loud music sore throat' to the 'screaming at the ref sore throat', we covered them all. In creating the style, we deliberately took a bold approach in colour and tone-of-voice to cut through the clinical world of 'pharma' advertising.
Content
To further capitalise on the convenience and impulse nature of the product, we looked to commuter media on both mobile and in out-of-home (OOH) to maximise top-of-mind awareness. We created 15-second pieces of content that spoke to even more sore throats, which became pre-rolls and video on demand (VOD) allowing us to be in more places, more often. Rather than taking a scattergun approach, this allowed us to be relevant in places other sore throats brands couldn't play, like sport and music.
OOH
While our competitors would typically taper off their spends during the end of the winter period, we supplemented our media with OOH to capitalise outside of the typical cold/flu season.
Weatherzone
While we couldn't ignore the fact that throat lozenges were still a seasonal purchase, when we did need to speak about weather, we did it in places our competitors weren't doing it. In the second burst of the campaign in 2016, when competitors were blanketing the airwaves with TV, we rolled out weather targeted digital banners with creative deployed during particularly cold, windy or rainy days.
Results
For a brand that was on the edge of demise, we didn't just manage to survive, we managed to grow. While we expected that the market share would show a decrease in 2015, 18 months after the Coles deletion, we had regained share to 12.6%, significantly above where we had projected. While we are unable to share sales figures, by the end of 2016, Soothers had grown the value of our core range from a score of 80 to 85. That is growth with only two-thirds of the distribution we had 18 months ago.
By the end of the second burst of the campaign, we had increased active consideration of Soothers from 48 to 56, eight index points above our pre-Coles benchmark and two index points above our objective.
After the first burst of our campaign, we saw value increases across all other retail channels. Sales in Woolworths grew by 2.7%, Metcash (IGA, Supabarn etc) by 5.3% and Impulse/Convenience by 16.1% (Nestlé Data 2015).
Consumers were actively seeking out Soothers, outside of just the traditional supermarket channels.
* * * * *
To purchase a copy of the latest issue or a subscription to our magazine, visit the online shop »
* * * * *