KFC gets gourmet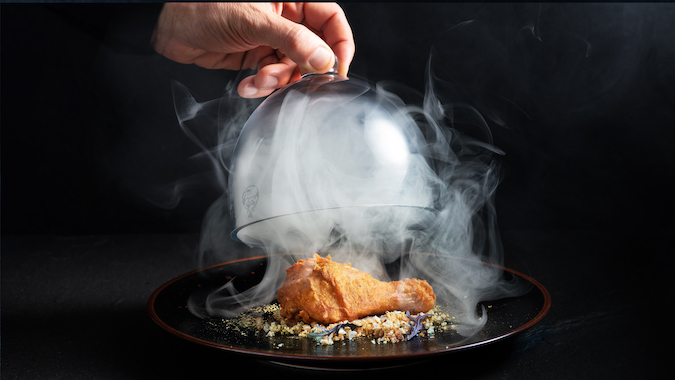 Clear your calendars – KFC is partnering with top Australian chef Nelly Robinson, owner of Sydney's nel. Restaurant, to release a luxurious, lavish, and somewhat larrikin degustation menu. You may find this American elbowing past you to make a reservation – in a digital sense, that is.
The 11-course (for the 11 secret herbs and spices, of course) fine dining menu is designed to highlight and elevate some of the Colonel's favourite offerings. It also hopes to unbutton the usually buttoned-up haute-culinary scene with dishes that encourage diners to get their hands dirty. So ditch the ostentatious cutlery and their dangerous prongs, roll up your shirt sleeves, and dig in!
Some of the menu is still cloaked in secrecy, as per KFC tradition, but there are some early standouts. A potato and gravy candle, whose savoury wax can be soaked with a biscuit; a "La-Di-Da" gold-dusted drumstick; and the Tongue Twister, a dish which, to be properly eaten, requires you to literally lick the plate clean – perhaps an homage to the Colonel's guarantee of "finger-lickin' goodness"?
"As a lifelong fan of KFC, creating an 11-course degustation with their most-loved menu items and elevating them to new heights has been a dream come true," Robinson said. "For the menu, I've taken 11 KFC dishes and reimagined how the flavours and textures come to life. I've pulled from my expertise in degustation menus to truly blow fans away." 
Kristi Woolrych, CMO for KFC Australia, spoke about the menu. "We're thrilled to be reinventing the idea of fine dining by bringing a fun and most importantly, delicious KFC Degustation to Sydney," says Woolrych.
"We can't wait to unveil the full 11-course menu we've created. Our Kentucky Fried Chicken is worthy of a fine dining experience." 
How to get a piece of gourmet chicken
The menu is being offered for a very limited time, from April 1st to 3rd. Obviously, this event is meant to cause a stir on social media and induce organic virality. But there's another layer here that really makes the campaign genius: the menu conjures up strong emotions. It's an appreciation for the simplicity of a tasty, fried chicken meal. There's the satisfaction of licking one's fingers for the extra spices. 
In a word, it creates a nostalgia for KFC and its menu. It brings back the excitement one might have felt as a child when their parents decided to give in to our incessant cries for the Colonel – but in a more adult setting. 
To enter for a chance to score a reservation (and I'm hesitant to write this, I must say, for fear of losing my own spot) head to reservations.kfc.com.au. This is where you'll be asked to explain which KFC menu item you believe is most worthy of a "la-di-da" degustation reconfiguration. Reservations can be made for parties of two or four, at $75 a head. 
See you there!