Law firms' marketing under-developed and under-resourced – study
Law firms in Australia and New Zealand are failing to perform effective marketing, with 77% rating their marketing and business development as 'under-developed' or simply 'adequate'.
The Australasian Legal Practice Management Association (ALPMA) and Julian Midwinter & Associates conducted a study via an online survey completed in September 2014 by 151 respondents from 149 law firms across Australia and New Zealand.
Key findings include:
45% of respondents rate their marketing and business development function as 'under-developed', while 32% rate it at 'adequate'. Only four respondents considered their firm to be 'sophisticated' in this area,
55% of firms have dedicated marketing and business development staff but 62% consider the team is under-resourced,
80% say their firm's lowest priority to achieving growth is boosting its marketing team, and
95% of firms consider their lawyers' marketing and business development skills to be important but 56% do not invest in training in these areas, and 48% no not have a firm-wide marketing plan in place.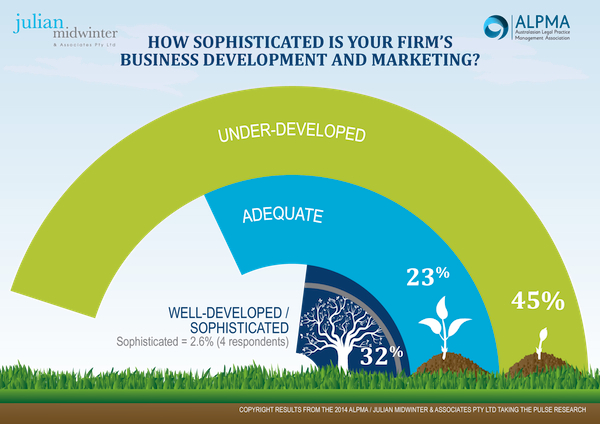 The lacking in these areas exists despite the fact that 65% of firms are forecasting revenue growth for this financial year, with 27% expecting to grow more than 5%.
71% of mid-size firms are expecting to increase their revenue and 44% of large firms expect to increase their revenue by more than 5%.
Julian Midwinter & Associates partner Amy Burton-Bradley says:
"There is a real disconnect between anticipated revenue growth and how firms intend to achieve this growth. Yet, reviewing the research results, it's hard to see how many of these firms will actually hit those revenue targets with the lack of planning and limited resources they have in place."
ALPMA president and Lantern Legal Group CFO Andrew Barnes describes law firms as often their "own worst enemy when it comes to effective business development and marketing".
"Respondents flagged a broad range of internal barriers – from limited buy-in and support from partners and lawyers, to time and resourcing constraints and the lack of an agreed, firm-wide strategic focus. Poor market differentiation is also preventing firms from enjoying success in this area."
Barnes advises law firms to change their strategic priorities in order to remove these internal barriers.