Lessons learned from a marketing career at recruitment brands
With a background in training and a career spent marketing for recruitment brands, Carolyn Hyams offers valuable insight into skills, experience and team development through education. By Michelle Keomany.
This article originally appeared in The Experience Issue, our February/March 2018 issue of Marketing magazine.
Carolyn Hyams is the digital marketing director of leading recruitment brands Aquent, Vitamin T and Firebrand. For an impressive 16 years, she has been instrumental in shaping these brands to become more than just recruitment companies. With all three specialising in digital marketing and creative recruitment, Hyams learned early the value of being an early adopter and standing out from the crowd.
When you speak to her you can tell that she truly embodies the bold, transparent spirit of these modern recruitment brands. The recruiter profiles of Firebrand's team not only list in what professional areas they specialise, you'll also find out whether they like house music or English tea. Surprisingly, Hyams doesn't come from a marketing background and was even offered her initial role as strategic marketing manager for Aquent Asian Pacific without any experience at all.
She explains, "I used to train people in computer graphics and after I trained them I would put them in touch with people who wanted to employ them." After eight years as a trainer and working with Aquent through her role, she went to the company to help her find a studio manager role, only to be offered Aquent's own marketing role. "I said, 'I've never done marketing before!'… [But] I knew that Aquent was the only global recruitment agency that specialised in creative. I had a graphic design and creative background – there was such a beautiful synergy there – so I thought, 'You know what? I'll just kind of learn marketing along the way'."
She laughs when she says that she actually went out and bought the book Marketing for Dummies and read the whole thing. "I had no idea what I was doing when I started, but I honestly believe that a lot of marketing is common sense… So basically, I thought, 'I can help creative people find jobs they love. It really appealed to me'." While Hyams has been with the brands for 16 years, a lot has changed over that period and she's needed to constantly rise to new challenges.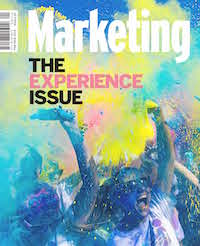 "When I first started with Aquent in 2001 everything we did was print-based. We used to spend a fortune on print advertising and, quite honestly, you produced stuff and you had no idea if it actually worked." She is critical not only of her marketing budget and ROI, but also as a one-person team, how she was using her time and resources. A major shift came in 2009 when social media started to take off and websites became more sophisticated, allowing the team to spend less on print advertising. "We could put our time and our resources – not necessarily our money – into content and social media marketing, which actually had a far greater impact for our business."
A key milestone was in 2010, when Hyams was responsible for launching Firebrand Talent, Aquent's agency that specialises in permanent recruitment. She talks about launching a global business on the smell of an oily rag. Hyams knew she had to use a social and content marketing approach to overcome the lack of budget. "I didn't know that much about social. I basically did it arse end around… I've got the platforms, what am I going to say? I need decent content! Initially, I was sharing other people's content but, in the end, you need to market yourself. So I launched the Firebrand blog and it really was the cornerstone of everything we did."
Hyams explains that at the time there weren't any CEOs blogging and there were no recruitment companies on social media. She mentions an article by Jeff Bullas, a prolific social media marketer, who wrote about the importance of leaders being on social media. After meeting him at an event, Hyams decided that the CEO of Aquent at the time, Greg Savage, should launch his own blog and that she would start one for Firebrand Talent as well. "There were no other recruiters doing this, it was unbelievable. And because we were ahead of everyone else, everyone looked to us, 'Oh what is Firebrand doing, what is Aquent doing?'
It took a couple of years, but the ability to build trust and reputation through the content that we were doing was instrumental." It's clear that not only did Hyams have a natural instinct for content marketing and the value of thought leadership, she also knew how to cut through and understood the importance of quality content. "For a blog you need great content, not average. It has to be amazing, it has to be stuff that people want to share," she says.
In exchange for the industry's best and brightest leaders writing for Firebrand, Firebrand would promote them and their personal brands. While no money was changing hands, Hyams understood the value of the partnership and that she needed to put in time and effort to keep the contributors engaged. She explains that the blog is how people came to find the Firebrand website. "It wasn't necessarily recruitment that they were after. They were after helpful, educational, valuable content that would help their career, their industry knowledge, anything to help them in the jobs they were in. This is the industry we were recruiting in, so there was that association that we were experts in the field that we were blogging about."
Nearly eight years later, some of Firebrand's original bloggers are still writing for the site today. On top of content marketing, each year Firebrand releases the 'Firebrand Talent Ignition Report', a survey of 1200 Australian employees that delves into their concerns and values. It's taking on this role of educator that really speaks to the brand's broader mission beyond its day-to-day functional as a recruiter. While all these things help it market itself, it also plays an important role in continually promoting a wider culture of knowledge sharing and generosity. This content marketing approach resonated with the challenges of the recruitment industry, helping to break through the stereotypes.
(Rather fittingly, the word Aquent actually means 'not a follower'.) Hyams says, "When it comes to recruitment the industry doesn't have a great reputation as a whole. So being able to build relationships through that trust, reputation and that value you add beyond people thinking that you just put bums on seats – that had a huge impact." Another advantage was that they were simply just the first brands to be active in this space. But in order to stay ahead, Hyams is very realistic about what needs to be done.
"It's constant learning, reading, looking at trends, following your strategy. But what can we do that's different, adds value, that's beneficial to the customer? So, you just have to keep on your toes all of the time and be open to change." She also reflects on what being a pioneer of social media marketing was like. "It was actually easier when it first started, you could do whatever you wanted," she recalls. "Your reach was huge and you didn't have any of these platforms limiting what you could say, when you could say it. Everyone saw it and it had a major impact whatever you did. And now, because you have millions of people, it's a lot harder to get attention and you have to pay."
Hyams' approach to marketing is incredibly thorough. Not only is she considering what she is creating and why, she's also assessing and optimising. She says that one of the biggest learning curves has been understanding data. "It's one thing to be doing all this digital marketing but what are you actually doing with the data it generates? I'm not one, but I'm striving to be an expert. Because if I can't read the data then I'm wasting time. I need to know what's working and do more of that!" There's no doubt that in an increasingly complicated digital marketing environment, it's Hyams' ability to KISS (keep it simple, stupid!) that has helped her to thrive. Behind the scenes, the brands are living what they preach and ensuring that good practices start within and then resonate outwards. Every employee of Aquent, Firebrand Talent and Vitamin T has an $8000 per year education. "It's almost hard to use it all! And it's every year." Hyams exclaims.
"All our employees are constantly out upskilling, learning about new trends, keeping up with industry. If you are not adopting a constant-learning mentality you will never stay ahead and you will not survive and thrive." Through her own experience, Hyams understands the needs of both employers and job seekers.
"This annual training fund we have is unbelievable and it means we have no excuse not to take responsibility for our own education now. I also think that having regular career conversations with employees, not just short-term but long-term [is vital]. 'In three years' time where do you see yourself and how can I help you get there?' It's those sorts of conversations instead of a performance review on what happened in the last six months that would really help people want to stay because they feel supported." She has a non-apologetic view of what the modern workplace should look like and thinks that as employees we shouldn't be afraid to have expectations.
"I think employees have a right to expect these things – 100 percent, I think that they have a right to demand the conditions that will keep them happy in their job. Employers need to wake up and be aware of what employees really want – what is keeping them in their job and what is driving them away." Hyams' positive energy and simplicity is infectious. It's clear that her own positive experience working for Aquent, Firebrand and Vitamin T helps to shape her 'no BS' approach to marketing. "How do you build trust if you're not going to be who you are and be honest with your customers? I think it's about honesty, really good communication and being consultative." Hyams is truly focused on providing the best experience for everyone that comes into contact with the brands she manages. It's a true testament to how powerful the combination of the right person for the right job is and the wider digital marketing industry is all the better for it.
Michelle Keomany is a social/content strategist at DigitasLBi France.
* * * * *
To purchase a copy of the latest issue or a subscription to Marketing, visit the online shop »
* * * * *