Media Monday: digital media consumption takes pride of place in China
In media news for Australian marketers this week: Chinese digital media consumption eclipses TV, radio and print combined, while Australians flock to the financial press in June.
Digital media usage overtakes traditional in China
Emarketer's latest estimates of media consumption in China predict that 2015 will be the year digital media consumption eclipses traditional.
The data, tracking adults' use of major media from 2011 to 2015, has seen print decline from a low base and TV's dominance stemmed by smartphones and tablets.
Nielsen Online Ratings for June 2015
As money matters dominate headlines the world over, Nielsen is reporting that an additional one million people visited a website in the financial news sub-category in June 2015 compared to the same period last year, a rise of almost 25%.
That nugget was part of the research firm's monthly Online Ratings report, listing the most-visited websites, which in June were: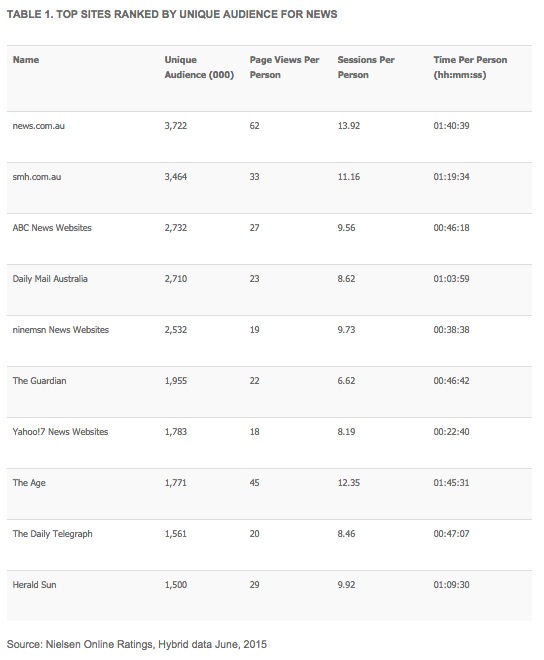 Time Inc sets NME free
From its 70s heyday of more than a quarter of a million newsstand copy sales, the latest attempt by British music magazine NME to combat dwindling circulation – dropping to less than 15,000 at last count – is to remove the cover price entirely.
In moving to a free publication, the 63-year-old magazine will now distribute more than 300,000 copies in railway stations, at universities and through retail partners across the UK.
As the price comes down, owner Time Inc has stated that content production and curation will increase dramatically, with renewed focus on live events as well as those parts of its footprint not bound by geographical constraints, namely video and its healthy social reach.
A playable record made from a tortilla
Proving media news can be delicious, despite the predictable song choice, here's this: