Media Monday: Eurovision audience records, Fairfax websites turn 20, News.com.au brand campaign
In Australian media news this week, Eurovision breaks audience records for SBS, The Sydney Morning Herald and The Age websites turn 20, News.com.au launches a brand campaign, SCA launches a new 80s and 90s digital station, SCA partners with Victorian Racing Club, and Men's Style magazine relaunches with its first male cover.
Eurovision attracts record audience numbers
The SBS broadcast of the 60th Eurovision Song Contest, held in Vienna, Austria, has broken records for viewer numbers, making it the most successful year of the event on SBS records. SBS is reporting 4,205,000 combined viewers across the three broadcasts.
Semi Final One: Friday, 22 May
Semi Final One attracted a 6.6% increase year-on-year in total people for metro and regional audiences. It was the number one most-watched TV show for the day among people aged 16 to 39.
Audience numbers:
Average metro audience: 500,000,
peak metro audience: 672,000,
average regional audience: 161,000,
peak regional audience: 197,000,
total average audience: 661,000, and
peak total audience: 869,000.
Semi Final Two: Saturday, 23 May 2015
Semi Final Two became the highest-ever recorded audience for a Eurovision broadcast on SBS, topping a million viewers when combining metro and regional peak figures.
Audience numbers:
Average metro audience: 639,000,
peak metro audience: 755,000,
average regional audience: 241,000,
peak regional audience: 319,000,
total average audience: 880,000, and
total peak audience: 1,074,000.
Grand final: Sunday, 24 May 2015
This year's grand final ensured Eurovision 2015 was the most successful Eurovision year on record. SBS broadcasted it live in the morning and again during primetime in the evening. The evening broadcast attracted a 14.4% increase in total audience compared to last year.
Audience numbers: live broadcast (morning) 
Total average audience: 325,000,
total peak audience: 666,000, and
40.6% share in metro audience.
Audience numbers: primetime broadcast (evening) 
Total average audience: 729,000, and
total peak audience: 1,053,000.
SBS CEO and Managing Director Michael Ebeid said SBS has been working hard to increase its involvement with Eurovision in the past few years, after 30 years of broadcasting the event.
"Our invitation to compete as a wild card entry this year has been an honour and we are absolutely delighted that our artist Guy Sebastian has represented Australia and SBS so exceptionally on the world's biggest stage, showcasing our country's creative talents.
"Eurovision for SBS is the perfect example of the SBS charter in action with its celebration of diversity, culture, and inclusion. Guy's performance was outstanding and against such strong competition we're so proud that his talent was supported, and acknowledged by the Eurovision community."
The Sydney Morning Herald and The Age websites turn 20
Fairfax Media is celebrating the 20th anniversary of the Sydney Morning Herald and The Age websites.
A dedicated website has been set up for the event, promoting special advertising packages and featuring this quote from Frank Prain, who was The Age's editorial librarian in 1995:
"We had no idea what it was going to be. It was all so new, we didn't really know what we were doing. But we knew we wanted to be a part of it."
Marketing did some time travel in the internet's Wayback Machine to dig out the evolution of the websites over the years. Although they launched in 1995, the earliest screenshots we could find were from December 1996.
Click images to enlarge. 
1996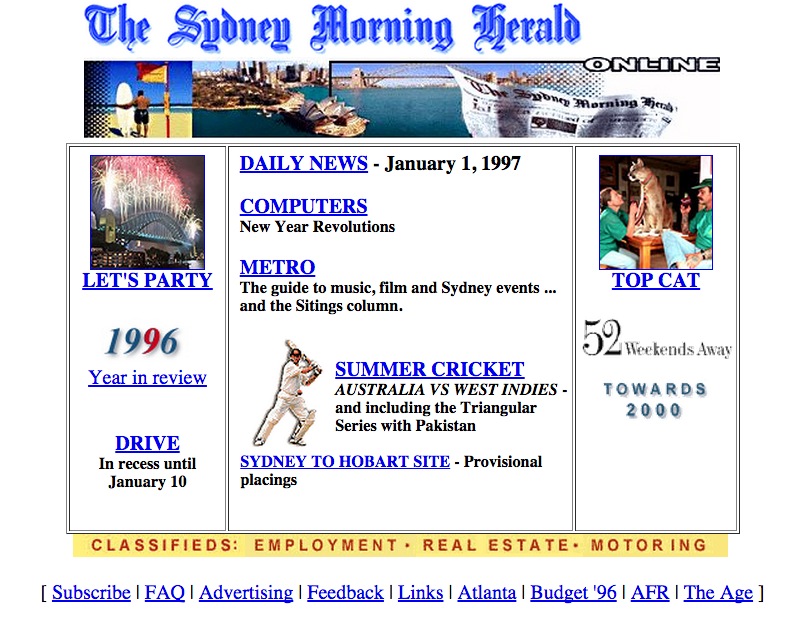 SMH, 31 December 1996
2000
2005
2010
2015
News.com.au brand campaign
News.com.au has launched a brand campaign positioning the brand as 'The news in colour'. The concept aims to illustrates the digital platform's breadth of content, pace of delivery and different angles on news.
The brand's largest-ever brand campaign, created by Bohemia Group, will feature across digital, TV, radio, magazines, outdoor and cinema.
The Glue Society and Revolver collaborated on the production of the TVC:
NEWS 30 SEC SHORT VO from News Corp Australia on Vimeo.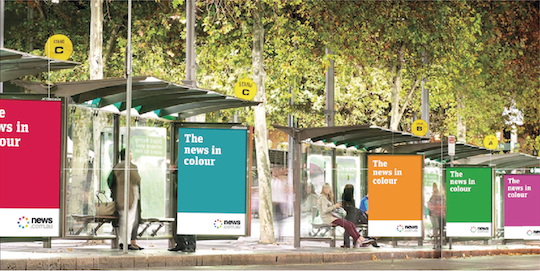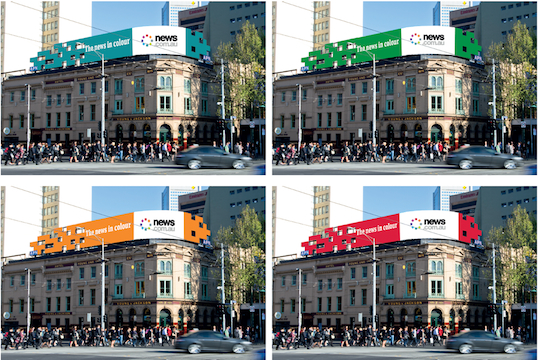 SCA launches digital station for 80s and 90s music
Southern Cross Austero has announced the launch of a new radio station, More Digital, dedicated to hits of the 80s and 90s.
The station will feature the Kim Wilde 80s show, hosted by the 80s British pop star, to air weekdays at 10am and Saturdays at 8am.
The station plans to feature stars including Madonna, Kylie Minogue, Michael Jackson, Roxette, George Michael, Mariah Carey, Backstreet Boys, Savage Garden and Britney Spears.
SCA partners with Victoria Racing Club
Southern Cross Austereo radio stations Triple M and Fox FM have announced their official partnership with the VRC for all events and race days next year.
The radio brands will be "front and centre" at VRC events, while SCA's talent from across its various stations will work closely with the VRC. The national activity will aim to create awareness and demand for the events to fans around the country.
Men's Style magazine's first male cover
Men's Style has appointed Tim Robards, star of The Bachelor, as its first male cover model in the magazine's 12 year history. The upcoming winter issue will relaunch the brand as refined and stylish.
Editor Michael Pickering said:
"Men's Style, which was launched at a time when 'lad's mags' were still ascendant as magazines for men, has always featured a beautiful female model on the cover, but it was very much time to mix it up and better reflect Men's Style's place as Australia's premium fashion publication for men. Hence, readers will see both men and women on future Men's Style covers."