Media Monday: News Corp axes mX, Shazam goes visual, Instagram Carousel ads
In Australian media news this week, mX to cease publication, Shazam's visual recognition functionality, Instagram's Carousel ads, News Corp's Sunday campaign, and OOH growth in May.
News Corp axes mX
Last week News Corp announced it was ceasing production of its daily afternoon commuter newspaper mX.
The last edition of the publication in Melbourne, Sydney and Brisbane will go out on 12 June.
"The decision is a reflection of the changing reading habits of commuters who now turn to their mobile phones and tablets on their way to and from work," a News Corp spokesperson told media.
The closure will put about 30 jobs on the line – the company says some will be redeployed but others face redundancies.
In March, the mX team was restructured and the papers relaunched with a new-look design.
Shazam introduces visual recognition
Music recognition app Shazam is branching into visuals with the introduction of visual recognition capabilities offering brands the opportunity to make their products and promotional materials 'Shazam-able'.
Australian launch partners include Universal Pictures, Southern Cross Austereo and Warner Bros. Interactive Entertainment.
Brands can now place the Shazam logo on items, allowing users to get instant access to custom mobile experiences, including interactive content, special offers and the ability to purchase items or share them with others.
Suzanne Stretton-Brown, marketing director at Universal Pictures International, Australasia, says partnering with Shazam to promote Jurassic World will improve the experience for consumers.
"People who Shazam the posters can book tickets to the movie, watch the trailer, enter competitions and even explore the Jurassic World park on their smartphones, without having to download new apps. The Jurassic World theatrical trailers, TV ads and Out Of Home posters all allow people to access the same mobile experience via Shazam."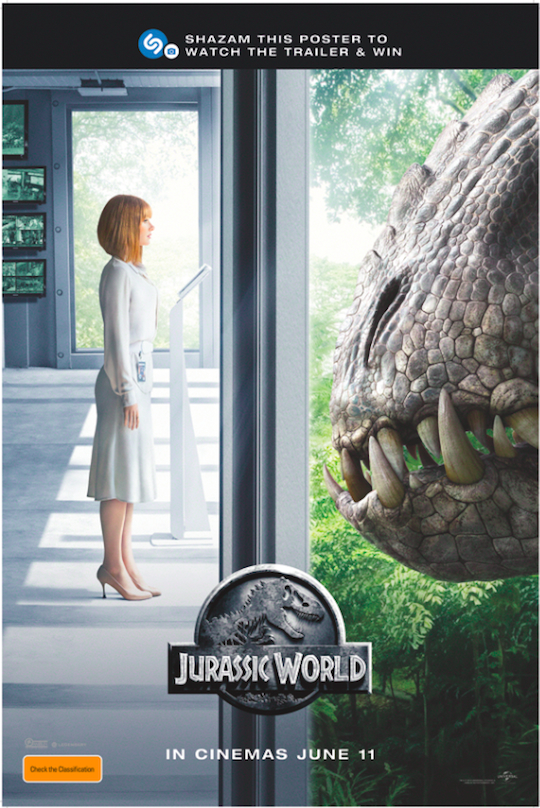 Instagram launches Carousel ads in Australia
Instagram has launched its multiple-image 'Carousel ads' in Australia with Destination New South Wales (Vivid Sydney), Kathmandu and Crown Resorts.
The new format allows users to swipe left on an ad to see additional images and a 'learn more' link to the brand's website.
Instagram first launched this feature for brands in the US about two months ago.
Crown Resorts CMO Christopher Coyne says:
"Embracing these cutting-edge opportunities means we are no longer bound by a single story and can showcase multiple truly fantastic Crown experiences that are available to our customers."

News Corp launches Sunday campaign
News Corp Australia has launched a new campaign focusing on 'the power of Sunday'.
Launched yesterday, the campaign includes special content liftouts covering home, entertainment and lifestyle, free Sony Music downloads, Mills & Boon iBooks and giveaways of Smiggle prize packs.
News Corp Australia director national sales Sharb Farjami says Sunday audiences are large and engaged.
"Sunday is our largest audience day with our readers also spending 51 minutes on average reading the Sunday newspaper. Because of the Sunday mindset our readers are more receptive to brand messaging  as well tactical executions, with our research showing a third of people have purchased an offer after reading about it in one of our Sunday papers."
The Sunday campaign will run in The Sunday Telegraph (Sydney), Herald Sun Sunday (Melbourne), The Sunday Mail (Brisbane), Sunday Mail (Adelaide) and The Sunday Times (Perth).
OOH grows again in May
Out-of-home net revenue has grown 12.5% for the month of May compared with the same period last year, following on from a trend of growth this year.
OOH revenue in May 2015 hit $52.5 million, up from $46.7 million in May 2014.
Year-to-date revenue is up 19.1% to $249.3 million, but from $209.2 million for the same time last year.
Digital OOH has also grown, now making up for 22.2% of total revenue, up from 14.8% last year.
Figures for May:
Roadside Billboards (over and under 25 square metres): $17.8 million,
roadside Other (street furniture, taxis, bus/tram externals,
small format): $16.4 million,
transport (including airports): $10.1 million, and
retail: $8.2 million.