'Misunderstood' North Korea looks to reposition as tourism-friendly with public relations appointment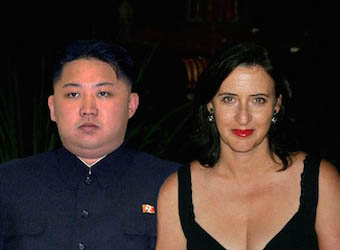 Updated 12:01pm 1 April 2014: April Fools. If the photograph didn't give it away, we're not sure what will.
Sydney 1 April 2014: Tourism North Korea has appointed an agency to handle its public relations in an effort to boost the appeal of the rarely-visited country, with a specific remit to improve the appeal of Supreme Leader Kim Jong-un.
The appointment of Access PR is intended to build on the agency's tourism and events experience with the likes of Destination NSW, Fairfax Events, Hotelscombined.com.au and Cover-More Travel Insurance. This experience gave it the edge over other pitching agencies, said CEO Andrea Kerekes (pictured, with Supreme Leader Kim).
"We understand the appointment may be controversial, but at the end of the day, no one is holding a gun to anyone's head to visit," Kerekes said.
"Also, in our dealings so far with the Ministry of Tourism and the Korean People's Army, we learnt there is a lot that is misunderstood about the country, their harmless military exercises and the Dear Leader. The haircut rumour is just one example. The truth was Supreme Leader Kim simply wants everyone to weigh the same as him, not look the same.
"It's an important distinction," she added.
One of the first initiatives Access PR will instigate as part of North Korea's new PR activity will be an international social media competition – #DMZDinner –  where people can win a seat an exclusive outdoor dinner, featuring sustainable nuclear-powered lighting, hosted in the Demilitarised Zone with the Dear Leader and 50 other guests.
One of Access PR's recommendations has already been put into action, with the North Koreans yesterday faxing South Koreans about their live-fire drills as a heads up.