Cooking chops and making koftas? 'Too Easy' says MLA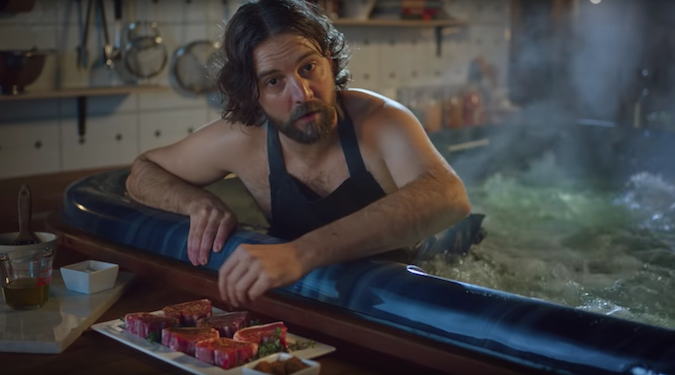 Australian Lamb has launched its annual Spring campaign by highlighting how easy it is to cook and prepare lamb with a series of two TVCs.
The 'Too Easy' series of two comedic 30 second spots, showcases just how easy it is for Australians to prepare and enjoy Australian lamb. The first shows a man preparing lamb chops from the comfort of his hot tub, and the second a woman cooking lamb koftas while mid-massage. Each is directed by Matt Kamen.
"We want to remind Australians that it's easy to bring people together over lamb, no matter the occasion," says Graeme Yardy, domestic market manager at Meat and Livestock Australia (MLA).
"This campaign celebrates the classic Australian 'too easy' culture and builds on lamb's core positioning of unity and inclusivity."
Australian Lamb says the integrated 'Too Easy' campaign will be the first to bear the new brand line: 'Share The Lamb' – an evolution on 2017's 'You Never Lamb Alone'. The campaign will begin appearing over television, digital, social, OOH and radio today. In-store and point of sale activations are also set to support the campaign in participating retail locations.
"Australian Lamb is such a versatile meat, with many cuts, and works with many flavours, we wanted to make sure the food was central to the campaign storyline," continues Yardy.
Earlier this year MLA's Summer Lamb campaign attempted to address the political divide in Australia with a West Side Story parody, 'Lamb Side Story'.
"If you're right, you think equal rights are wrong – it's Adam and Eve, not Adam and Steve," sings the right. The left responds with "We're all equal, no one left behind." Also be sure to look out for a cameo by 'Lambassador' Sam Kekovich.
The advert has since been removed from the MLA and Australian Lamb's social pages.
Further Reading: