Battle of the brands – Uber and DiDi to feature at 2018 AFL Grand Final
Rideshare giants Uber and DiDi are both looking to capitalise on this year's AFL Grand Final. DiDi has been announced as the event's official rideshare partner.
Didi Chuxing (DiDi) will be the AFL's official rideshare partner on 29 September, as Melbourne kicks off the largest annual sporting event for the country. Fans will be offered discount vouchers of up to $100 through the DiDi app to commute to and from the game, with dedicated DiDi pick up and drop off zones at the game.
"The AFL is excited to partner with DiDi Mobility Australia, the world's leading rideshare platform, for the biggest day on the football calendar," says AFL general manager commercial Kylie Rogers.
"We anticipate a capacity crowd for this year's Toyota AFL Grand Final and with DiDi having over 550 million users worldwide, they're experts at supporting big crowds."
Uber is also hoping to grab some of this year's Grand Final attention. The rideshare platform with six years of Australian presence will be featuring its latest 'See you soon' campaign during the game.
The Chinese Uber challenger launched its operations in Melbourne in late June, its first expansion outside of the Asian market »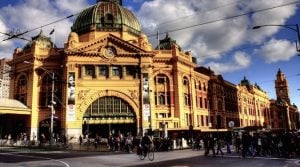 The partnership will also see a 'DiDi Dome' installed at the Grand Final, offering fans phone chargers, refreshments, giveaways, seating and a photobooth as part of the onsite Footy Festival.
In addition, riders who use the app in the week leading up to the Grand Final will enter to be in the running to win one of five AFL Silver Memberships for a club of their choice.
"Since DiDi's launch in June, Melburnians have enthusiastically welcomed DiDi and we are therefore extremely excited to partner with the AFL for the 2018 Toyota AFL Grand Final in order to make contributions back to the city," says marketing manager for DiDi Mobility Australia Douglas Toy.
Further Reading:
Image copyright: Daniel DePetro