NSW Government launches 'Water Safe, Not Sorry' campaign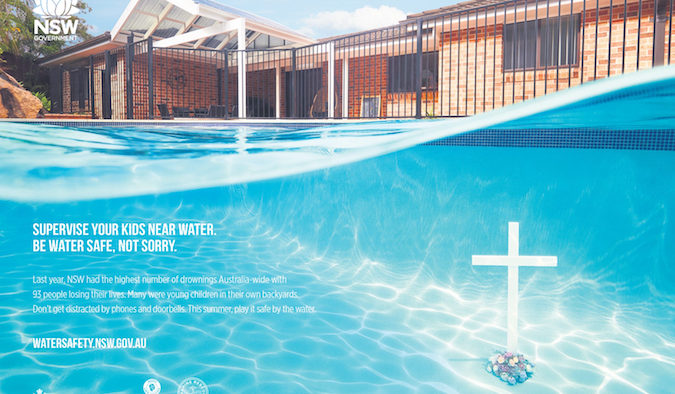 In response to a horror holiday season last year, the NSW Government and independent agency Loud have launched a campaign to help reduce the amount of drowning deaths in the state's waters.
Last summer 41 people drowned in NSW, making it the second most deadly summer in the last 10 years. Between Christmas and New Year, 17 people drowned in nine days. This represents a 325% increase on the 10 year average.
The campaign, developed by independent agency Loud, is centred around three key risk factors: drinking and taking drugs around water, swimming at unpatrolled beaches, and parents leaving their kids unsupervised around water.
The creative for the campaign features crosses in popular swimming settings.
"When people die in road accidents, it is part of our culture to show our grief by placing crosses and flowers at the sites where they died," says Gerry Cyron, head of planning and innovation at Loud.
"As a passing driver, you can't help but to slow down, impacted by the loss of another human's life. We borrowed from this cultural insight and applied it to drowning to warn others about the danger that can lie in familiar waters," he says.
The campaign objective is to help reduce the number of drowning deaths in NSW while contributing to the long-term national goal of reducing drowning deaths by 50% by 2020.
–
Further reading
–