Nielsen: Global ad spend steady, signs of recovery emerge
Global ad spend grew slightly in quarter two of 2012, according to figures just released by Nielsen, which points to the beginnings of a recovery towards the end of the quarter.
Spend rose to US$139 billion for the quarter, a 2.4% gain on quarter two in 2011, but June posted a 3.1% increase indicating that optimism may be starting to rebound.
The findings from Nielsen's quarterly Global AdView Pulse report show that emerging markets continue to outpace developed markets, with the Middle East and Africa up 19.6% year on year, and Latin America up 4.9%.
Asia Pacific grew by 2.9%, outstripping North America, which grew by 2.0% and Europe, which registered another decline of 3.8%.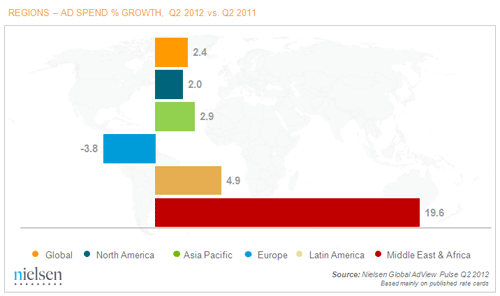 The decline in Europe came despite growth in the United Kingdom, Turkey and Norway, with conservative spending in markets such as Greece, The Netherlands and Portugal leading to another decline, the report says.
Regional inconsistency was a theme throughout the quarter, with some countries noting large increases and others dropping. In APAC, moderate overall growth (+2.9%) resulted from significant increases in the Philippines, Indonesia and Hong Kong, being offset by declines in markets like South Korea and Australia. In North America, the U.S. grew 2.4% while Canada declined 2.0%.
Total global ad spend for the first half of 2012 was $266 billion USD.
Warc's Global Marketing Index for September shows more signs of returning optimism, with an increase in marketing budgets and trading conditions recorded during the month.