November Best Global Digital Marketing: Red Roof Inn's search campaign, Burger King's Motel, Turkish shoppable soap opera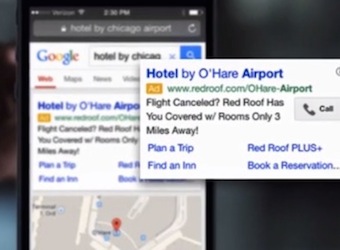 Red Roof Inn's Flight Cancellation campaign is the best global digital marketing campaign of November.
European digital marketing research firm Best Marketing International monitors almost 300 digital award competitions worldwide. Based on the winners of these competitions, the research team shortlists 10 works and forwards them to an international expert jury for voting. Last month they monitored roughly 20 award shows from across the globe. It was the month of some key events such as the Golden Drum Festival, Lovies and Clio Awards. Despite the strong European competition, the US fought to the top with a clever search campaign. Best Marketing International selects fresh works every month from the winners of local and regional award shows.
PREVIOUS: October's best global digital marketing: New Zealand food photos save lives, Singapore app for the visually impaired »
First Place: Red Roof Inn's Flight Cancellation campaign by 360i (US, OMMA Awards winner) 
Red Roof Inn offers economy lodging across the US. Every day hundreds of flights are cancelled, leaving unsuspecting travellers stranded. Red Roof Inn decided to offer these unlucky commuters a place to stay. The company's ultimate goal was to enter the market through the digital environment. As a result, a great new search tool was developed with the help of 360i. The Flight Cancellation Coup technology was able to process enormous amounts of live cancellation data, automatically boost bids, and make copy adjustments across the brand's mobile search campaigns, speaking directly to the stranded traveller.
What the jury said:
Gamze Gurbuzatik, client services director, JWT International (Istanbul):
"I really like the how a real consumer problem became a great creative solution to another brand, and the responsiveness of this quick and easy set up utilising the simplest way of people using online activity: search. Great work!"
Second Place: Elidor's Catch Pink if You Can by MANAJANS JWT (Turkey, MMA Smarties winner)
Elidor turned a popular TV show Medcezir into an interactive game where people could win pink products the actors in the show were using/wearing/riding. A 120-minute TV show was turned into the brand's commercial break with 285,378 people playing the game during the show.
What the jury said:
Mike Berry, internationally recognised digital marketing lecturer, trainer author and consultant (London, UK):
"This is just great. This Turkish shampoo brand (owned by Unilever and marketed as 'Sunsilk' in other territories ) basically 'bought' a whole programme via product placement and then proceeded to encourage its 20something female audience to watch the show very carefully, to shake their phone to 'capture' pink items as they appeared on-screen and so earn rewards.  The brand realised that today's young people don't just sit and watch TV as their parents used to do; instead they also use their mobile devices to make live TV a connected social experience. In this case, a great example of second screening, the brand succeeded in 'owning' both screens and effectively created a 120 minute TV ad! A clever partnership and 100% on-brand for Elidor."
Third Place: Burger King's Motel by Colenso BBDO NZ (New Zealand, Effie NZ winner)
Most people are timelessly faithful to Burger King's famous Whopper. But with a new range of TenderCrisp Chicken Burgers, BK needed to convince consumers to break their everlasting relationship with the Whopper. They opened Motel Burger King – a discreet location where people could cheat on beef.
What the jury said:
Gamze Gurbuzatik, client services director, JWT International (Istanbul, Turkey):
"I liked how confidently Burger King utilised its bestselling Whopper's share to shift the consumer to the new launching product. Really clever way of using the content, and create entertaining value that would skyrocket the social media activity, hence the sales results."
In November, the jury consisted of Misha Coetzee (Digital Brand Manager at Investec Johannesburg, South Africa), Mike Berry (Internationally recognised digital marketing lecturer, trainer, author and consultant, UK), Hando Sinisalu (CEO of Best Marketing International, Estonia), Gamze Gurbuzatik (JWT International, Client Services Director Istanbul, Turkey) and Kusnadi Assaini (Head of Division at Digital One Jakarta, Indonesia). To find out more about the awards visit: http://www.best-marketing.eu/about-awards.