Out of home breaks 11-quarter run of growth, but still 'unmatched'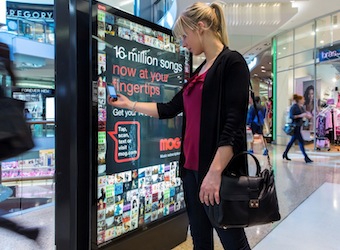 The Australian out-of-home industry continues to experience healthy growth at a time when other traditional media are seeing a decrease in audience and market share, but its 11-quarter unbeaten run ended in quarter four 2012 with a 4.2% year-on-year decline.
The proof is in the pudding, with OOH ending 2012 by posting a 1.8% increase on net revenue of $503.3 million, up from $494.61 million in 2011.
But despite benefiting from a strong first half of the year which saw 4% and 2% growth in Q1 and Q2 respectively, and an awfully successful third quarter resulting in 6.5% growth, the OOH industry experienced its first quarter of decline in almost three years in Q4, following a slow retail market in the lead up to Christmas.
Net revenue for the last quarter, October to December 2012 was down by 4.2% to $145.7 million, compared to $152.1 million in 2011.
"These positive annual revenue results again prove the staying power of our industry," says Charmaine Moldrich, CEO of the Outdoor Media Association (OMA). "We are incredibly proud of the resilience our industry has shown through a tight economic climate."
"Despite a comparatively small drop in revenue in quarter four, we mustn't forget that this follows 11 consecutive quarters of strong growth for the OOH industry – a solid performance unmatched by any other traditional media," says Moldrich.
OOH's ability to keep growing in a volatile media landscape is attributed to its flexibility and foresight, plus its ability in developing "exciting digital and interactive interfaces," continues Moldrich.
Other achievements in 2012 include:
new updated figures for MOVE (measurement of outdoor visibility and exposure), which saw an increase of 13% in total daily contacts taking contacts to 338 million, up from 299 million in 2011
the OMA-launched book OPEN, a book that explores creativity through a variety of OOH campaigns from home and abroad as well as essays on creativity, culture and the role of OOH in our community, and
2012 also saw the consolidation of the industry with oOh!media taking over EYE Corp from Channel 10.