Penguin-clad protestors crash Coca-Cola event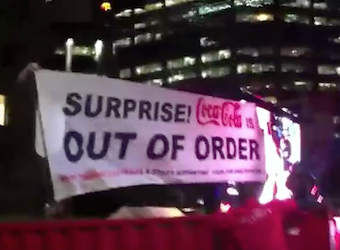 After the recent storm of Coca-Cola getting in the ear of Channel Nine to pull the Greenpeace ad, it seems the company is again on the end of another backlash campaign.
Last Friday evening its high-profile 'Big Red Boxes' event was crashed by a civil disobedience group dressed as penguins.
Industrial sabotage activist group, Out of Order, used Coke's 'Big Prize Surprise' event at Customs House in Sydney to make the point that Coke is anti-recycling, particular in light of the chain opposing the 'cash for containers' scheme in Australia.
In the lead up to this latest sabotaging, the activist group had been conducting myriad attacks on Coke such as  putting 'out of order' notices on Coca-Cola vending machines around Australia, and sharing the photos on Facebook.