Pepsi got in first, but Coca-Cola Life's launch marks declaration of the Green Cola Wars
Coca-Cola South Pacific has announced it will bring its new Coca-Cola Life to Australia in early April, where it'll go head to head with rival stevia-sweetened product, Pepsi Next, which has been in market here for a couple of years and recently changed its branding from light blue to green.
The green-labelled Coca-Cola Life is sweetened with 35% less sugar than normal Coke, offset by stevia, the kilojoule-free sweetener derived from a Paraguayan plant. Coca-Cola says it has developed the new product in response to consumer demand to "shake up the category". It claims the new product release is, "Only the fourth drink to be launched in the Trademark's 128 year history".
Coca-Cola Life's lower sugar level is part of the company's 2013 commitment to address obesity in Australia by offering more low-kilojoule beverage options.
A Coca-Cola South Pacific spokesperson tells Marketing it has a "unique taste profile" and "delivers the similar great taste you would expect from Coca-Cola."
The local campaign to run during April and May will be led by a TVC with the message, 'Let life surprise you'. It will target 30-to-49-year-old "balance seekers, looking for a great tasting cola with fewer kilojoules, using a natural sweetener".
Although Coca-Cola is remaining tight-lipped on the details of the creative, it has announced the "high-impact multimillion dollar marketing campaign" will include:
TVCs rolling out across TV, digital, cinema and mobile,
print and digital media integration,
OOH including large scale billboards,
extensive sampling and experiential,
PR, and
extensive premium POS suite, which will disrupt in store.
Sydney's Kings Cross, Melbourne's Southern Cross station and Auckland's Britomart will host OOH displays.
"In Australia, a strong investment in transit will play on the theme of surprise," the company adds.
"Tailored messaging will urge commuters to 'come along for the ride' or 'take a detour' on their way home."
Lisa Winn, Coca-Cola South Pacific marketing director says the company is confident the new formulation is what consumers want. "We've achieved the best possible taste of Coca-Cola, but with 35% reduced sugar and kilojoules. Coke Life isn't simply a new product from Coca-Cola – it's another great choice for people who want a delicious Coca-Cola to fit their lifestyle. There is a Coca-Cola option for everyone."
It brings the number of products in the Coke trademark to four: Coke, Diet Coke, Coke Zero and now Coca-Cola Life. The Coca-Cola South Pacific spokesperson explains: "Our Coca-Cola is the original iconic brand, enjoyed and loved by millions for its great taste. Coca-Cola Life is for adults looking for a great tasting Coke but with fewer kilojoules and sweetened from natural sources. Coke Zero is designed for young adults with great Coke taste and zero kilojoules. Diet Coke has a distinct taste that is calorie free and loved by dedicated drinkers."
Coca-Cola Life internationally
Argentina and Chile piloted Coca-Cola Life in 2013, and the product was launched in the US and UK in September 2014.
Here's one of the South American ads:
In January, the brand released the below YouTube video showing it launching the product in a quiet fishing village in Norway. The concept in the video fits with the idea that the company "will travel near and far to ensure its products are available for everyone". This is also the message of the soon-to-be-launched Australian TVC.
Coca-Cola in Great Britain recently announced that it would adopt a 'one brand' marketing strategy – all Northern Europe advertising will now focus on a more unified master brand, featuring all four products in campaigns (Coca-Cola, Diet Coke, Coca-Cola Zero and Coca-Cola Life), with a view to phase out brand campaigns for individual Coke beverages.
"We'll be promoting the different characteristics of each variant, and giving black, silver and green greater presence in Coca‑Cola advertising," the company wrote on its UK website.
"The strategy will also play an important part in our goal to achieve, by 2020, more than 50% of Coca‑Cola sales from lower or no calorie colas in Great Britain."
Pepsi Next was first with stevia in Australia
In 2012, Pepsi launched Pepsi Next, its lower-kilojoule cola sweetened with stevia. Originally the brand identity was light blue but has recently changed to a green similar to the Coca-Cola Life brand.
Pepsi Next contains 30% less sugar than Pepsi, and is not to be confused with the USA variety of Pepsi Next, which contains 60% less sugar, offset by artificial sweeteners aspartame and acesulfame potassium.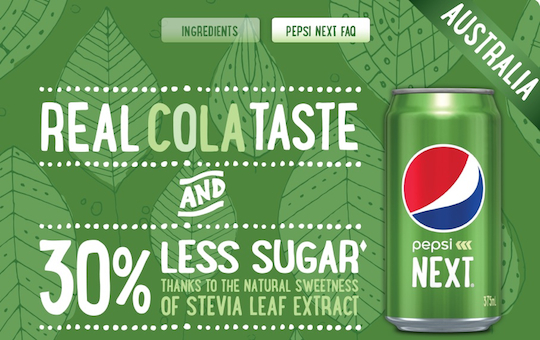 We're dubbing what happens next the 'Green Cola Wars'.