Sensis' first ever brand campaign positions company as "Australia's marketing partner"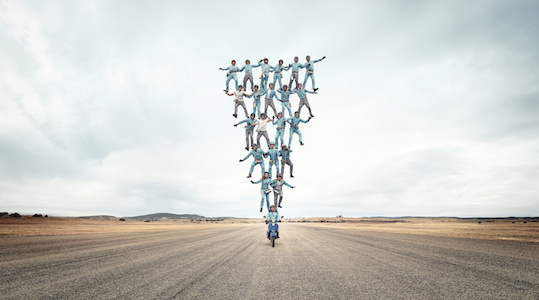 Sensis has launched its first ever brand campaign, positioning itself as 'Australia's marketing partner' in the latest step away from the company's print directory history.
Created by Ogilvy Melbourne, the TVC uses acrobats on a motorbike to demonstrate the challenge for SMBs of "balancing a business".
Sensis director corporate affairs, Libby Hay says the company is aiming to show customers how it can offer support, guidance and tools to help businesses control their marketing and gain a competitive edge.
"Our customers are already digitally savvy; it's the marketing side of the equation they're finding overwhelming. They've told us staying on top of marketing their business often feels like dealing with an untameable beast."
The campaign launch in Melbourne will include TV, radio, digital and outdoor.
Sensis has undergone significant transformation over the past few years, becoming one of Australia's largest digital marketing services businesses with more than 200,000 customers.
In February 2014, the company shed 800 jobs in a move towards become a digitally-focused marketing services company. 12 months earlier Sensis cut 700 jobs and sent more than 300 offshore.
Last August, Sensis rebranded with assets featuring a cast of "helpful and encouraging" colourful animal characters.
READ: Sensis rebrand features cartoon animals and a focus on digital »
The company also launched Found, a full-service digital marketing agency focused on large national clients.
Here's an interview we did last year with Michelle Sherwood, Sensis executive general manager of strategic marketing, discussing changes to the company's marketing strategy.