Social video buzz – which Olympic sponsor is winning the race?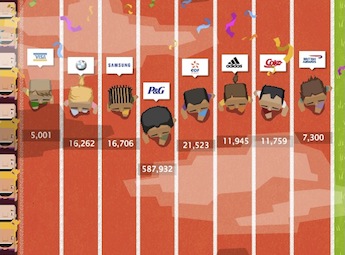 Pumped up with Olympic Fever, Unruly Media's renowned Viral Video Chart has been taken to Olympic proportions to track the viral video success of London 2012's official sponsor brands.
The chart tracks shares of videos across Facebook, Twitter and the blogosphere in order to arrive at a ranking for each brand's social video success in the lead up to first Summer Olympic events taking place on 25 July in London.
The eight highest-ranking brands are pitted against each other in the final medal race – visualised below – with P&G ultimately claiming the gold ahead of EDF and Samsung, with 2.2 million, 122,000 and 98,000 shares respectively.
If you can't see the frame below, please refresh this page.