The Inspired Unemployed, Grill'd and OnlyFans make an unlikely collaboration
Australian comedy duo The Inspired Unemployed have teamed with burger chain Grill'd and OnlyFans. The saucy campaign is in celebration of the Impossible Burger coming to stores.
In a world first, the burger business used the comedy stylings of The Inspired Unemployed to give food porn the literal meaning. The content created by the duo can be exclusively accessed by an OnlyFans account set up by Grill'd. 
The multi-channel campaign is live from 9 November, and features comedy videos on Instagram, Youtube and TikTok. The skits prove that the plant-based burgers are just as good as the real deal. "You won't bloody believe it's not beef, until you try it," is the tagline for the campaign.
The Inspired Unemployed may have been an unlikely partnership, but the duo declared themselves plant-based. Tired of the bland plant-based burger options, the Impossible Burger was an ideal opportunity to celebrate their vegan lifestyle.
The Impossible Burger patty has been on the market for sometime, originally launched in 2016. However, it has only recently begun to pick up more momentum. Grill'd is the first national restaurant group in Australia selling the product.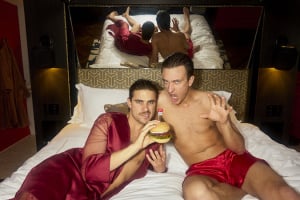 With the promise that it looks and tastes like real beef, they have challenged burger aficionados to taste the difference. Grill'd has added their signature spin on it, so instead of being limited to one plant-based choice, vegans will be treated to four. From the basic Simply Grill'd to an Impossible Australian, complete with melted cheese and beetroot, the burger chain is supporting those who choose a meat-free lifestyle.
Simon Crowe, Grill'd Founder and Managing Director, says: "We're fiercely passionate about creating healthy, sustainable—and most importantly—delicious burgers so we're thrilled to be one of the first restaurant groups in Australia to offer Impossible burgers and we can't wait for everyone to taste it for themselves. You only have to ask The Inspired Unemployed – these burgers are unbelievably mouthwatering, delicious and made for people who love meat."