The man your man could smell like is coming to Australia for local Old Spice relaunch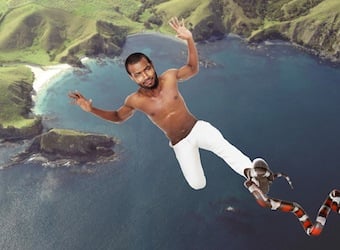 To promote the relaunch of Procter & Gamble's Old Spice range in Australia, the face of the hugely popular Old Spice videos and the man you'd like to smell like (or, for the partners, that your man could smell like), Isaiah Mustafa, is making his way down under to launch the campaign.
Mustafa will be visiting the nation he believes to be the "manliest nation in the world", from 16 to 18 September, to create unique Australian and New Zealand content in the home to some of the world's deadliest spiders, great white sharks and boxing kangaroos.
"I've ridden horses, battled white sharks and travelled the world, but what I'm most excited about is visiting Australia and shaking the hand of the manliest man," Mustafa said in character in a media release.
The launch of Old Spice in Australia and New Zealand will be supported and publicised through its 'Release the Man, Man' advertising campaign across television, online and print, and a PR and digital campaign.
"We are thrilled to launch the iconic Old Spice brand in Australia and New Zealand with a localised digital and PR campaign and a visit from the Old Spice Guy himself – Isaiah Mustafa. Our aim is to connect the many distinctive scents of Old Spice with the hearts, minds and noses of Australian and New Zealand men, who want to smell great without trying too hard," says Natasha Daly, brand manager.
The Old Spice male grooming portfolio will feature 12 products to help men stay fresh throughout the day, including body sprays, body washes, deodorant sticks and its iconic aftershave.