Top 10 retail and hospitality trends in Australia
Top 10 retail and hospitality trends in Australia
We're talking good old-fashion bricks'n'mortar. None of the 'e-this' or MyFaces the kids are talking about these days. Shops popping up, wheel-based foods, social-media-infused dining… this instalment of Marketing's Top10 looks at some of the latest hospitality trends, and twists on trends, appearing in the retail and hospitality scene in Australia, a scene that is arguably long overdue for a shake up.
So here they are, in no particular order, the Top10 trends in Aussie retail and hospitality:
The pop-up shop
Unused properties provide fertile ground for temporary shops, restaurants and cafés. Last November the South Melbourne Market played host to SO:ME Space, bringing together established and emerging designers in a marketplace aimed at capturing the younger set in an atypical retail destination for clothes, jewellery, books and more.
Presently, the Melbourne Food and Wine Festival is underway, and local publication Broadsheet has opened the Broadsheet Bar (pictured above) for the festival's duration, with guest mixologists running the bar during that time. It's up-front limited timeframe gives it a festival edge. As does the festival.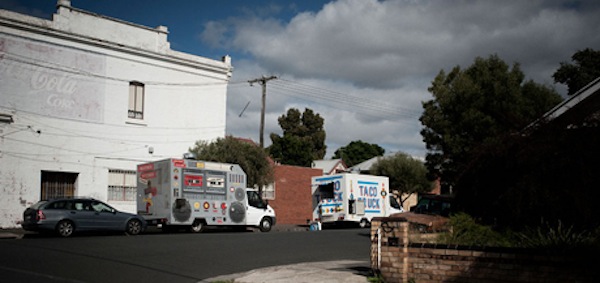 The food truck
Sure: ice creams and kebabs have always come from the back of a truck, but the last few years has seen the ignition of a veritable food truck craze. From burgers to tacos to gourmet hot dogs, all the way down the palate to cupcakes.
Melbourne has lead the way over the last year or two, but word on the street in Sydney is that food trucks will very soon be cruising them, too.
In the wild: Beatbox Kitchen, Taco Truck (above), Gumbo Kitchen, Grandstand Hot Dogs…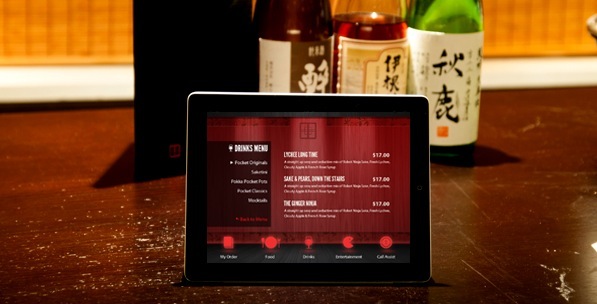 The iPad2 ordering system
The days of yelling your order to the barperson just for them mishear and bring you an avocado instead of an affogato are thankfully coming to an end with some tech-savvy establishments installing tablet ordering systems at tables.
Japanese tapas and cocktail bar, Little Red Pocket, invited Marketing along to the debut of its self-developed iPad2 ordering system, which lets patrons browse an interactive menu of the bar's food and drink offerings. Once you've decided what to order, you can customise it right down to the number of ice cubes in your Lychee Long Time. Payment is then made through a credit card swiper attached to the iPad, and you can sit back until it arrives.
But the fun doesn't stop there, with access to Facebook included, and plans underway to add extra functions such as social gaming and music voting systems.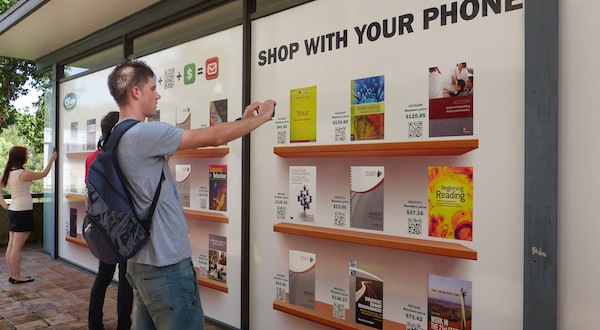 The virtual shop
2D images. QR codes. No staff. Instant payment. What's not to love? Well, there's the unnecessarily limited product range, for one thing, although we're sure this idea will develop further.
Woolworths' virtual stores in Melbourne's Flinders Street and Sydney's Town Hall railway stations were more of an attention-grabbing interactive advertisement, but they proved a point about Woolies' mobile shopping app. Likewise, Sportsgirl decided to turn what would usually be downtime at its stores on Melbourne's Chapel Street and in Sydney's Paddington into opportunities for mobile shopping. The Co-op Bookshop's 'window shopping for textbooks' (above) aims to cut out some of the hassle of the back to school period by offering a purchasing channel outside the usual queue-happy in-store environment, complete with free delivery to save slipping discs.
A recent development: Woolworths' has expanded its virtual store placements to include bus shelters and vertical scrolling posters within train stations. Scrolling. Moving. While people are meant to scan it? Points lost.
If you can't see the video below, please refresh this page
The social dinner club
Sydney is a transient city, says Cenk Baban. For all the coming and going, it can easily be an unfriendly place to make new friends and try new restaurants. This is where Baban's Social Dinner Club comes in, with monthly excursions through exotic cuisines, expert speakers and great opportunities to meet fellow foodies.
But the benefits extend to business owners too. The Social Dinner Club gets bums on seats from people who may never have set foot in your restaurant. It's also a great way to get involved in social media promotion, as it's these channels the Social Dinner Club keeps Sydney foodies up to date with the social dining happenings.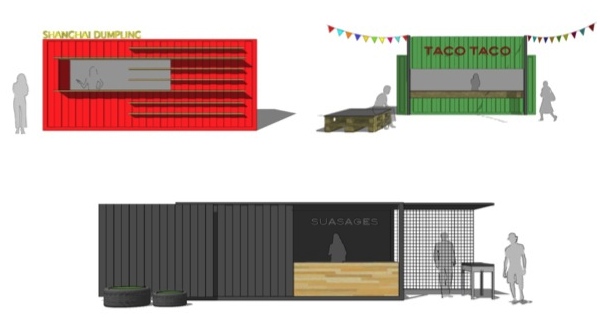 The people's market
A few bucks to come along and sell your junk, er…treasure? It must be a flea market. But in The Year 2012, they feature gourmet tricked-out shipping containers dishing out gourmet tricked-out foodstuffs (not to mention employing professional PR agencies).
Debuting this Saturday, The Melbourne Flea will open its converted shipping containers, with anybody able to sell their wares. The hippest local bars and cafés will be there, and so will anybody who with $35 for a stall.

The pop-up shop within a shop
An extension of the simple pop-up shop, the pop-up shop within a shop adds a dash of cooperation and cross-promotion to create a win-win-win situation. The host store rewards customers for purchasing, the resident store gets in front of a different audience, and the customer gets some freebies.
During March, Topshop on Melbourne's Chapel Street is hosting a series of temporary shops within a shop celebrating indulgence: manicures, gourmet ice cream, stationery experts and floral delights will treat the customer who spends $50 in store.
The co-op
2012 is officially the International Year of Cooperatives. The UN says so. However, it's not always a cause for celebration, but in some cases a necessity for the survival of essential services.
Business owner Natalie van Veen says the trend in small rural towns is towards amalgamating existing services into, "the old fashioned 'general store', the one-stop-shop because the individual retailers can no longer afford to stay open."
Van Veen is selling her business to the local cooperative, which already owns the grocery store: "They're buying the post office, newsagency and nursery from me. I'm keeping the cafe and putting my art gallery in there. Country stores have to amalgamate to maintain basic services for small towns."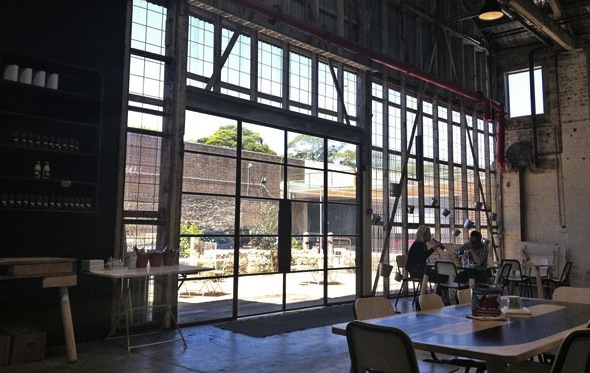 The sustainable café
Home cooking, locally sourced ingredients, old art installations. Even the venue's recycled. Kitchen by Mike (above) is set up in an old cannery, the spacious factory floor has a canteen feel with atmosphere being dished out by the ladle.
But you don't have to set up a café in an old warehouse to be part of this movement. The craze among inner-city bean-pushers is currently exploding in a downpour of delicious black caffeine syrup from espresso machines and cold-drip chemistry sets, all sourced from fair trade, sustainable plantations.
The future
If you've been counting, you will know we're currently at nine items for this Top10.
This is where we throw it open to you, Dear Reader:
1) To let us know in the comments about any other interesting or innovative things you've seen in your travels around Australia or The World, or
2) To get out there and create The Next Big Thing in Aussie retail or hospitality.