Why Qantas' troubles are bad news for Brand Australia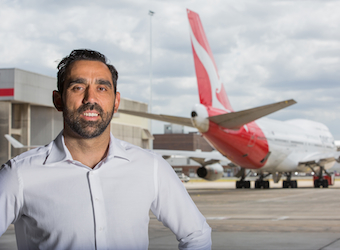 The combined value of Australia's top 100 brands now stands at AU$117 billion, according to the Brand Finance Australia 100, released today, but some of Australia's most iconic brands are showing signs of faltering. Qantas remains Australia's most valuable airline brand, but it has slipped further down the overall rankings, from 14th to 17th, while Virgin Australia continues to close the gap.
Qantas' problems are bad news for Brand Australia, says brand value assessor Brand Finance. The national carrier flies the flag for Australia internationally. It is the first point of contact many visitors have with the country and its tail fins advertise Australia's importance to travellers at airports worldwide. If Qantas were to fail, it would have a significant impact on attracting tourism, skilled people and investment to Australia, the report says.
Woolworths winning the supermarket war
Woolworths holds on to Australia's top spot, and it has extended its lead over rival supermarket superpower Coles by $2.3 billion. 44% growth brings its total brand value to more than $12 billion. Coles had a fairly successful year, growing 25% to $7 billion, but with Woolworths powering ahead, $5 billion of brand value now separates the two.
Telstra's stellar growth
Australia's second most valuable brand is Telstra. Its brand value is up 59%, one of the fastest rates of growth of any Australian brand. A $9.3 billion brand value means that Telstra has become one of the world's top 20 most valuable telecoms brands for the first time. The operator has retained its advantage in network coverage over Optus and continues to leverage its brand effectively through its triple-play and broadband offering. A 9.2% growth in profits has led to an increased dividend this year for the first time since 2006.
Telstra's success has seen BHP Billiton pushed into 3rd place. While brand value growth remains positive for BHP and many other mining brands, the pace of that growth is slowing amid concerns about a Chinese slowdown in infrastructure and housing development.
ANZ is the most valuable bank brand in Australia at $6.6 billion. Its 'Asian strategy' is proving successful; ANZ sponsorship hit the jackpot this year with Li Na's win at the Australian Open (as a result of which an estimated 70 million Chinese viewers were exposed to the ANZ brand).
Billabong's swansong?
Billabong continues to struggle, falling further to 75th place in 2014 from 43rd. Richard Haigh, director of brand finance Australia says, "The decision to write off the brand on the company's balance sheet seems to have been premature to say the least. Billabong continues to attract investors willing to attempt a revival. Though weakened, there is undoubtedly value remaining."
Leighton has been badly affected by corruption and bribery allegations. Aside from the reputational impact, litigation also casts a shadow. Consequently its brand rating (a benchmark of the strength and future potential of the brand similar to a credit rating) has been downgraded to A+ and it has lost millions in brand value.
Retail brands under pressure
A very crowded and competitive retail space sees both Westfield and David Jones suffer. Westfield's sell-off of several sites has compounded its brand value performance, meaning it has fallen 15 places in the national rankings and lost $53 million in brand value. David Jones is also down 15 places. Myer's brand value is larger than David Jones' and growing fairly rapidly (by 37% this year) raising questions about the long term viability of the David Jones brand under a merger or partnership as has been rumoured.
Victoria victorious in state brand battle
Victoria continues to hold off New South Wales as Australia's top state by total brand value. Despite having fewer brands in Australia's top 100, Victoria's total is $57 billion, $9 billion ahead of and New South Wales.
Victoria has continued to pull further ahead despite now having fewer brands in the table that New South Wales. Last time around Victoria had 40 brands in the table against New South Wales's 39, this year the numbers have been reversed.
Western Australia has 11 brands in the top 100, ahead of 4th-placed Queensland, with only seven brands. South Australia has three, while Tasmania, ACT and Northern Territory's have no brands valuable enough to make the list.