Woolworths is Asia-Pacific's most valuable retail brand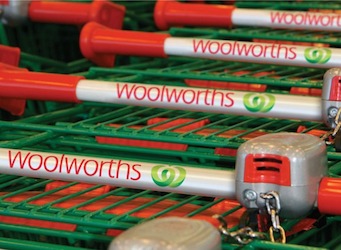 International brand consultancy Interbrand has released its fourth annual global report on the retail sector, seeing Walmart maintain its position as the world's most valuable retail brand and Woolworths maintain its number one ranking in Australia, while also taking top spot in the Asia-Pacific region.
The following brands ranked as the top retailer in their respective regions, with their brand valuation according to Interbrand in US dollars:
North America: Walmart – US$131,877 million
Asia-Pacific: Woolworths – US$4,948 million
Europe:  H&M – US$18,168 million
Latin America: Natura – US$3,156 million
The 'Best Retail Brands' report ranks the top 50 North American retail brands, the top 50 European retail brands, the top 30 Asia-Pacific retail brands and the top 20 Latin American retail brands by brand value. The report is produced in collaboration with Interbrand Design Forum, the retail experience group within Interbrand.
"Adapting retail formats to accommodate the shift in consumer preferences for e-commerce is proving to be the key to success for many retailers worldwide," said Jez Frampton, Interbrand's global CEO. "In today's rapidly evolving global marketplace, retail brands must be more agile, flexible, and responsive than ever before. The winning retail brands will not only survive the continuous shift to digital retail, they will become more extraordinary because of it."
For Australia's big retail brands, this year was a mixed bag of results, with several brands reflecting an upswing in consumer confidence, while others struggle to make sense of digital and a shrinking middle-market for many consumer goods, according to the report.
Winners 
Woolworths and Coles supermarkets placed among Asia's top retail brands, both showing strong growth, with Woolworths topping the list as the most valuable retail brand is Asia, just shy of US$5 billion, despite Coles making strong gains as it catches up to its long-time rival, crossing the $4 billion mark for the first time.
Wesfarmers and Woolworths hold six of the top 10 spots in Australian retail, reflecting the concentration of the market and perhaps explaining the slow rate of innovation in the Australian retail sector compared with counterparts overseas. However, the growing share of Aldi and Costco in the Australian market may yet spur the retail giants to up their game in competing for their share Australian's wallets.
Losers
Harvey Norman, Myer, David Jones and Target all declined again in 2014, reflecting not just increased competition from overseas and a strong Australian dollar, Interbrand says, but also that they have largely not kept pace with changing consumer expectations and desires.
Damian Borchok, Australian CEO of Interbrand said that the changes made by Australia's department stores are not translating. "Myer and David Jones both showed declines in their ability to create value through their brands," he said in statement.
"Despite stated plans to reform and transform, too little change is making its mark with the customer. Some argue that the market cannot sustain two premium department stores in the face of online competitors and international players. But the unanswered question remains: why would the merger of two traditional retailers finally deliver a breakthrough business model that gives customers a better shopping experience?"