Wunderman Thompson writes children's book about climate change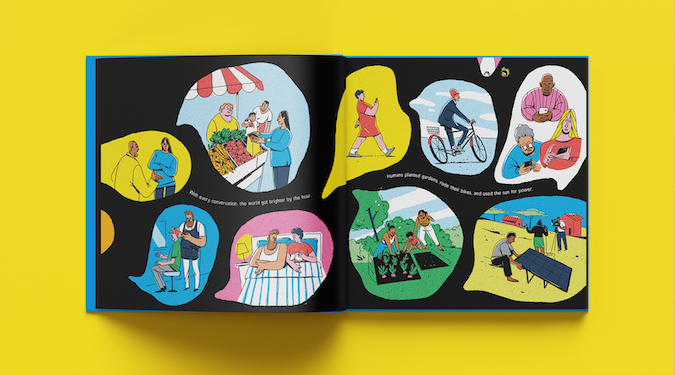 Wunderman Thompson Australia has teamed up with the United Nations Development Program (UNDP). The partnership sees the release of a children's book about the dangers of climate change.
The book, titled 'The Birds and The Bees', teaches kids about how they can use their voice to tackle climate change, and is part of UNDP's campaign 'Don't Choose Extinction'. The campaign urges the world not to make choices that will cause extinction across the planet. 
A 2021 UNICEF report revealed nearly every child is at risk from at least one climate change event. Based off these findings, 'The Birds and The Bees' has been developed in light of the fact that today's children will be more affected by climate change than any generation before them.
Wunderman Thompson associate creative directors Jack Elliott and Lochie Newham co-authored the book. The duo said: "The birds and the bees has always been a famously difficult conversation for parents but talking about the future of our planet can be even harder. We wanted to not just create an engaging story, but a tool for kids to make their voices heard. After all, people might not care for politicians or scientists, but they do care about their kids."
The children's book has been illustrated by Serbian artist Anđela Janković. It will also be turned into two audiobooks voiced by Game of Thrones star and UNDP ambassador Nikolaj Coster-Waldau and Melanie Zanetti, star of Bluey.
"Like Bluey, this book is a children's story with a message for adults too. On the show we cover some of life's big topics with kids, and climate change is certainly one of the biggest in today's world – and one that I'm incredibly passionate about." says Zanetti.
It will be available in six languages and is available for pre-order now.