Facebook partners CNN to analyse election, launches 'I'm Voting' app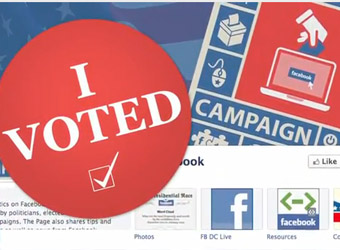 Facebook will team up with CNN to take the pulse of Americans during the 2012 election, using sentiment analysis, surveys and an 'I'm Voting' app that allows users to declare party preference.
The social network has stated its aim to become a "second screen" for political coverage by encouraging its 160 million US users to share their political views and measure sentiment towards party and leader performance. CNN will incorporate the findings into its coverage.
"Each campaign cycle brings new technologies that enhance the way that important connections between citizens and their elected representatives are made," says Joel Kaplan, Facebook's vice president of US public policy. "Though the mediums have changed, the critical linkages between candidates and voters­ remain. Innovations like Facebook can help transform this informational experience into a social one for the American people."
The 'I'm Voting' app will enable users to display the candidates, parties and issues they endorse on their timeline. It will also show if users have enlisted friends to support issues or candidates.
CNN will use the I'm Voting app to poll users about hot topics surrounding policy, presidential debates and election day, and incorporate the findings alongside sentiment analysis into their coverage.
Metrics about President Obama, Vice President Biden, Mitt Romney, and the yet to be named Republican vice presidential candidate as will be measured.