Facebook turns its attention to social search, says Zuckerberg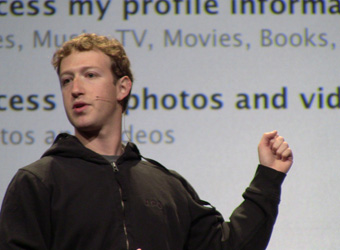 Social search looks set to be the next digital trend to take off with Facebook chief executive Mark Zuckerberg revealing the social network is working on a search product that could answer user questions such as where to eat.
Google took the first stab at integrating social results into search when it launched 'Search plus Your World' in January this year, integrating results from its social network Google+ into search. However, the integration has been criticised for not including results from other social networks and is widely believe not to have cracked social search's potential.
Zuckerberg revealed that Facebook was doing one billion queries a day, "without even trying," as users turn to it for questions about places to go, such as where to go for sushi.
Speaking at the Techcrunch Disrupt conference in San Francisco on Tuesday, Zuckerberg said Facebook is pretty uniquely positioned to answer the questions people have. "At some point we'll do it," he said. "We have a team working on it.
"Search engines are really evolving to give you a set of answers, 'I have a specific question, answer this question for me.'"
The opportunity is one that has been noticed by Australian start up Posse, which is currently in beta phase and set to launch in full during October. Posse lets users create virtual streets of their favourite real world places, connect with businesses and search their friend's and friends of friend's recommendations for places to go.
In what was his first public appearance since Facebook floated in February, Zuckerberg said the social network's future in mobile was looking brighter, but reiterated that it would not build its own smartphone.
Since the company updated its iOS app, users were consuming twice as many mobile newsfeed stories, Zuckerberg said, adding that on mobile, "we are going to make more money than desktop".
However, building a smartphone would be the wrong strategy for the company, he said.